Sheikh Rashid fears arrest as police complaint lodged for allegation against Zardari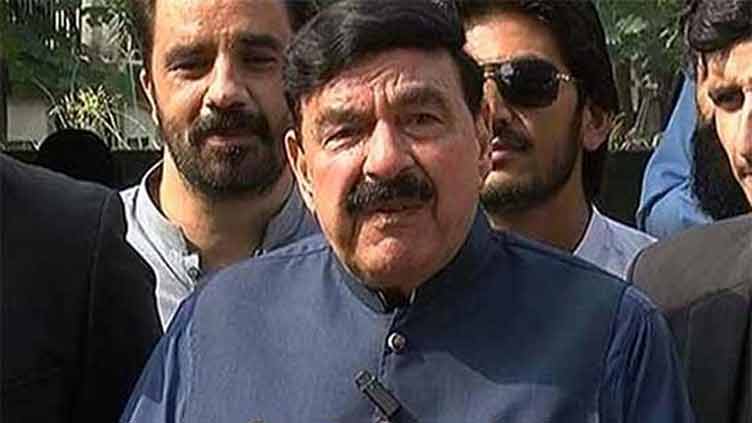 Pakistan
Sheikh Rashid fears arrest as police complaint lodge for allegations against Zardari
RAWALPINDI (Dunya News) – Awami Muslim League (AML) chief Sheikh Rashid Ahmed revealed on Tuesday that a leader of the Pakistan Peoples Party (PPP) had filed a complaint against him for accusing former president Asif Ali Zardari of plotting the assassination of PTI Chief Imran Khan.
In a series of tweets, he said Raja Inayat Rehman, the vice president of PPP's Rawalpindi division, had filed the complaint in the Abpara police station. Mr Ahmed said he had been summoned to the police station at 5pm on Wednesday.
The former interior minister said when he sent his lawyer to submit his reply, the SHO refused to accept it. The police officer, according to the AML chief, told the lawyer that he had orders to not accept the statement so Sheikh Rashid could be arrested in the case.
— Sheikh Rashid Ahmed (@ShkhRasheed) January 31, 2023
Citing writ number 213/22, he said court should be taken into confidence before any action against him. "It is my right to submit my reply through the lawyer but the SHO is reluctant," he said.
Earlier, Mr Ahmed on Tuesday expressed deep grief over the loss of lives in a brazen terrorist attack in Peshawar.
In a tweet, the former interior minister said his thoughts and prayers were with the families of those who were martyred and injured in Monday's attack. "May Allah protect Pakistan from terrorism and local and foreign conspiracies," he wrote.
A day earlier, a suicide bomber managed to enter a mosque in the Peshawar Police Lines and blew himself up during Zuhr prayers, killing at least 93 people and injuring 157 others.
The blast was so powerful that a part of the mosque caved in, leaving several worshippers trapped under the rubble. The rescue operation has entered its final phase as efforts are being made to recover all the people from under the debris.
The major attack comes as the South Asian country is facing a new wave of terrorism since the banned TTP withdrew from the ceasefire in November last.
Local and world leaders have widely condemned the Peshawar blast, with Prime Minister Shehbaz Sharif and Foreign Minister Bilawal Bhutto-Zardari calling for the implementation of the National Action Plan (NAP) with full force.