Transport fares spike deals a blow to the masses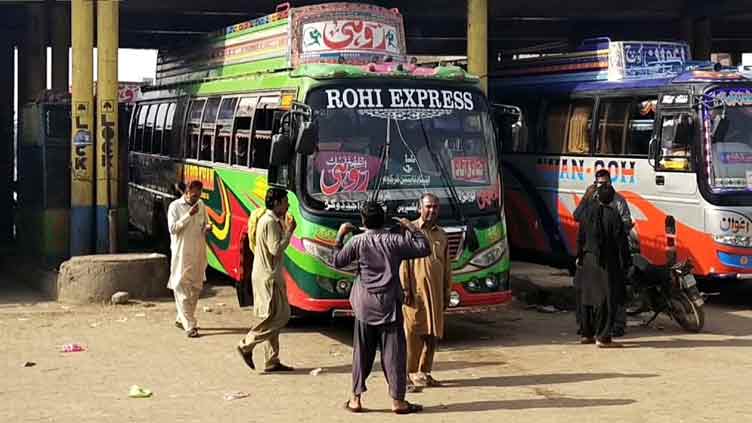 Pakistan
Transport fares spike deals a blow to the masses
LAHORE (Web Desk) - The All Pakistan Public Transport Owners Federation (APPTOF) on Sunday announced 10 per cent increase in the intercity fares following a massive hike in the petroleum prices.
According to the federation s spokesman, the participants of the meeting opined that considerable increase in diesel prices would destroy the transport system across the country.
Know more: Ishaq Dar announces Rs35 per litre increase in petrol, diesel prices
The spokesman said the fare for Rawalpindi, Faisalabad and Multan from Lahore had been increased by Rs100; Lahore to Gujranwala Rs50, Lahore to Sadiqabad Rs200; and the fare for Lahore to Karachi had been increased by Rs600.
While Traders Association of Pakistan president Kashif Chaudhry, in a statement, said they rejected Rs35 per litre increase in the prices of petrol and diesel, saying the latest increase would bring a flood of inflation in the country.

He demanded that the government immediately roll back the hike in petrol and diesel prices.

Pakistan Goods Transport Alliance president and MPA from Sindh Malik Shahzad Awan also rejected the increase in petrol and diesel prices, saying the price of petrol and diesel had been increased by Rs 35 each. He said after consulting all the transporters a plan of action would be announced later.

He said the policies of the imported government have brought Pakistan to the brink of ruin.

Awan said the time had come to take to the streets against the government, adding the priorities of the [imported] government were to create anti-people policies.

Meanwhile, the general secretary of Tajran Khyber Pakhtunkhwa Zahir Shah said the increase in the prices of petroleum products would bring a new storm of inflation, urging the government to withdraw record increase in the prices of petrol and diesel.