Islamabad court resumes hearing on Fawad Chaudhry's bail plea in sedition case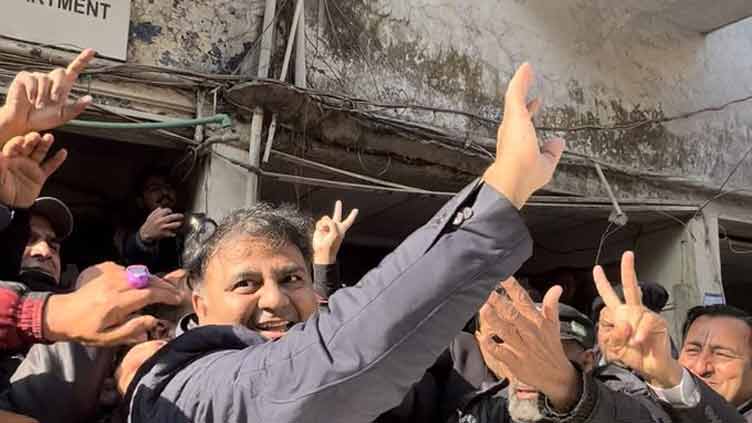 Pakistan
Islamabad court resumes hearing on Fawad Chaudhry's bail plea in sedition case
ISLAMABAD (Dunya News) – A district and sessions court on Saturday resumed hearing on the bail petition filed by PTI leader Fawad Chaudhry in a sedition case filed against him for hurling threats at the officials of the Election Commission of Pakistan (ECP) and their families.
As Additional Sessions Judge Faizan Haider Gillani resumed the hearing, Mr Chaudhry's lawyer Babar Awan said he was ready to submit arguments in the case. To which, the judge said how he could hear the case when record of it was unavailable to him. He, later, adjourned the hearing till 10 am later today.
The bail petition was filed on Friday after a judicial magistrate in the federal capital sent the former information minister to the Adiala Jail on 14-day judicial remand after rejecting a prosecution plea for extension in physical remand of Mr Chaudhry.
Earlier, the counsel for the PTI leader moved the court of Judicial Magistrate Waqas Ahmed Raja for post-arrest bail. However, the judge refused to hear the case, saying it did not fall under his jurisdiction. Later, a petition was filed in the court of Additional Sessions Judge Faizan Haider Gillani who has issued notices to the parties and adjourned hearing till Saturday.
The bail petition states Mr Chaudhry "has falsely been involved in the instant case by the complainant with the malafide intention and ulterior motives just to harass, pressurize and blackmail the present petitioner, whereas, the allegations leveled in the FIR are absolutely false, frivolous and baseless and the petitioner is quite innocent. Moreover, the petitioner has no link or concern with the commission of alleged offence".
"That the petitioner was arrested in the afore-mentioned FIR illegally unlawfully and without any Justification in negation to the law and the Constitutional rights of the petitioner, hence, petitioner seeks the remedy of bail after arrest from this Honorable Court," it said.