Tension mounts as Farrukh Habib tries to block police bid to shift Fawad to Islamabad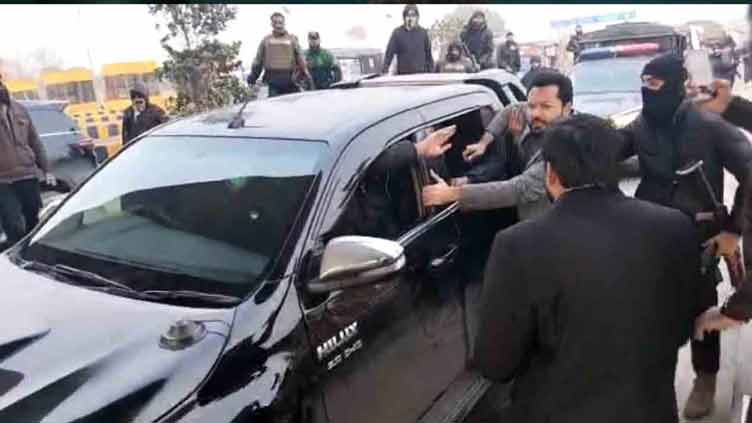 Pakistan
Tension mounts as Farrukh Habib tries to block police bid to shift Fawad to Islamabad
LAHORE (Dunya News) – Pakistan Tehreek-e-Insaf (PTI) leader Farrukh Habib engaged in a heated exchange with police official in a bid to block the transfer of Fawad Chaudhry, who was arrested over threatening the officials of the electoral body, to Islamabad.
Videos show Mr Habib trying to obstructed the motorcade of security officials at a toll plaza on the Lahore-Islamabad motorway. He can be seen standing in front of the police vehicle and thumping on the bonnet. At one point, personnel of the Elite Force came out of their vehicles and took Farrukh Habib away from the vehicle to resume the travel to Islamabad.
Police officials are shifting Fawad Chaudhry to the federal capital after his medical examination at the Services Hospital, Lahore. The former minister is being taken to Islamabad despite an order to produce him before the Lahore High Court (LHC). Earlier in the day, LHC's Justice Tariq Saleem Sheikh issued the order to present Fawad Chaudhry in court while hearing a petition against his arrest.
After police failed to comply with the court orders, Justice Sheikh summoned the Punjab and Islamabad IGPs later today and ordered that Fawad Chaudhry should be produced in the court even if he was in Islamabad.
The PTI stalwart was taken into custody in the wee hours of Wednesday after he was booked under sections 153A, 506 and 124 A of the Pakistan Penal Code on a complaint lodged by Election Commission of Pakistan Secretary Umer Hameed.