Journalist Shahid Aslam granted bail in ex-army chief's data leak case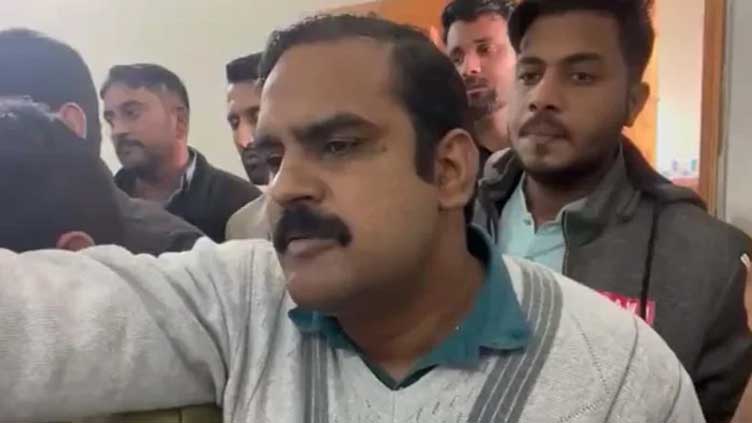 Pakistan
Journalist Shahid Aslam granted bail in ex-army chief's data leak case
ISLAMABAD (Dunya News) – An Islamabad sessions court on Wednesday granted bail to journalist Shahid Aslam who was arrested by the Federal Investigation Agency (FIA) last week from Lahore for allegedly being part of leaking tax data of former Chief of Army Staff (COAS) retired Gen Qamar Javed Bajwa.

The journalist was produced by the FIA before the court. During the hearing, the journalist's lawyer requested the court to accept Mr Aslam's bail application.

"Shahid had refused to cooperate with the investigation officers and did not share his mobile or laptop passwords with them," FIA prosecutor Zulfiqar Naqvi told the court. "We have sent the electronic devices for forensics," he added.

"Shahid Aslam was arrested for violating Section 216 of the Pakistan Penal Code," said Mr Naqvi.

After hearing the arguments of both sides, the court accepted Mr Aslam's plea and approved his bail against surety bonds worth Rs50,000.
Know more: ISPR rejects claims about Gen Bajwa, family's assets

On Nov 25, the Federal Board of Revenue (FBR) suspended from service two officers of the Inland Revenue Service in connection with the leak of tax record details of Qamar Javed Bajwa and his family, sources told Dunya News.

Sources said deputy commissioners Atif Nawaz and Zahoor Ahmad had been suspended from service after preliminary investigation. According to the initial report, the data leaked from logins and passwords of both officers who are currently under investigation.

Earlier, Finance Minister Ishaq Dar ordered an inquiry into the "unwarranted leakage of tax information of the family members of outgoing army chief Gen Qamar Javed Bajwa." Taking serious notice, he said this was clear violation of the confidentiality of tax information that the law provides.

In view of this serious lapse on the part of functionaries, the finance minister directed SAPM on Revenue Tariq Mehmood Pasha to personally lead an immediate investigation into the violation of tax law and breach of FBR data, affix responsibility and submit a report within twenty-four hours.