LG elections in Karachi, Hyderabad enter final phase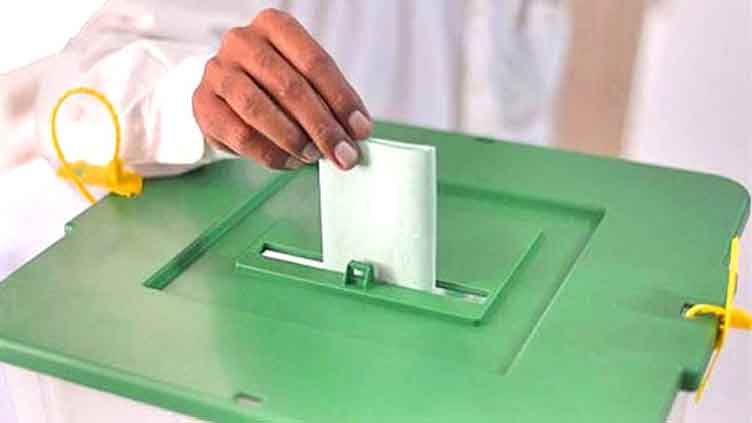 Pakistan
The polling started at 8am which will continue till 5 pm without any break
KARACHI (Dunya News) - The polling in continuing in 16 districts including Karachi and Hyderabad for the second phase of the local government elections amid boycott of the Mutahidda Qaumi Movement Pakistan (MQM-P) and incidents of arson attacks and scuffles at polling stations.
The Election Commission of Pakistan (ECP) earlier turned down the request of the MQM-P and the PPP for not holding the LG elections because of security concerns.
The polling started at 8am which will continue till 5 pm without any break. Around eight million voters will use their right to vote their local government representatives from among 17,863 candidates contesting for chairman and vice-chairman of the union committee and general members.
Candidates of PPP, PTI, JI, Tehreek Labaik are among others who are participating in the election. As many as 8,876 polling stations -- 4,997 in Karachi and 3,879 in Hyderabad divisions -- have been set up with CCTV cameras.
Polling is being held in seven districts of Karachi division and nine districts of Hyderabad division. Apart from Karachi and Hyderabad city, votes will also be cast in Jamshoro, Matiari, Tandu Muhammad Khan, Tandwala Yar, Dadu, Thatta, Sajawal, Badin areas.
Strict security arrangements have been made on the occasion of polling, Rangers have also been deployed as a quick response force outside the polling stations.
-- PTI asks for extension in polling time --

Complaining that polling started in some area with a delay, PTI Sindh President Ali Zaidi demanded an extension of two hours in the polling time.
The polling time should be extended till 7pm, he added.
-- Political leaders cast vote --
Sindh Labour Minister Saeed Ghani and PTI parliamentary party leader Khurrum Sher Zaman cast their votes in UC 8 and District South UC 12, respectively.
JI Karachi chief Hafiz Naeemur Rehman also cast his vote.
-- Low voter turnout, absence of polling staff reported --

As polling is underway for the second phase of the Sindh Local Government Elections, low voter turnout due to cold weather was reported and absence of polling staff at several polling stations disrupted the polling process on Sunday.
As per reports, the polling was delayed because of non-availability of polling station's staff at the Maripur Town UC 3 in Kiamari district, while people further complained about the presence of irrelevant persons in the polling area.
Voters alleged that no one is being stopped despite the presence of security officials.
-- ECP takes notice of irresponsible statements --
The electroral watchdog took notice of irresponsible statements given by the political parties during the LG elections.
According to the spokesperson, the statement by Interior Minister Rana Sanaullah was equal to misleading the people and it showed his lack of awareness regarding the election laws involving delimitations of constituencies.
-- PTI MPA Naqvi complains about ballot box seals --
PTI Sindh MPA Firdous Shamim Naqvi visited a polling station in Karachi and shared videos showing him removing what he claimed were loose seals from ballot boxes.
He could be seen complaining about the mismanagement and allegedly improper sealing of ballot boxes.
Taking to Twitter, he lamented that "There is no staff present in the polling station since the morning. There are five ballot boxes kept in a single room. There is no female staff present from the election commission."
"The presiding officer has no training; seals of all ballot boxes are open." he said while criticising the ECP.
-- PPP alleges rigging --
Meanwhile, the PPP's official Twitter account shared a letter written today by Senator Taj Haider to the chief election commissioner asking him to investigate "high-handed tactics" being used in two polling stations of Korangi Town.
The subject of the letter highlighted the unavailability of "polling boxes/material" at the New Age Grammar School polling station while the matter of the letter claimed "high-handed tactics" were being used at polling station 103, Sun Rise School, and 104, Government Mono technic.
The senator demanded an investigation of the above "irregularities" in order to ensure "clean and transparent elections".
Also Read: PTI, PPP accuse each other of rigging , demand ECP s intervention
-- Several acts of violence, sabotage reported before and during polling --

Several acts of violence, clashes and setting elections camps on fire were reported in differents distcricts of Sindh the ongoing local government elections on Sunday.
Unidentified people set seven election camps of different political parties on fire during ongoing local government elections in different areas of the provincial capital.
Police said first incident was reported in Saudabad area where fire was brought under control in no time. The suspects fled the scene.
The Korangi SSP said the investigation is underway to determine the elements behind the incident.
The camps were set on fire in Korangi and Malir areas. Rangers and police are present at the affected camps.
The PTI leaders alleged that some masked men entered a polling station in North Nazimabad Town UC-3 of Rachi district, harassed the polling staff and returning officer and tampered with the technical equipment. It was further alleged that unknown people were riding vehicles with the PPP flag.
A heavy contingent of police and rangers reached the spot and controlled the situation, but no accused was arrested.
In another incident, a clash broke out at Mir Ghulam Muhammad Talpur, Tando Bagu Union Council 37 of Badin district where an opposing candidate tortured polling agent Abdul Qadir Anwar who alleged that hewas later kicked out of the polling station by teh supporters of a PPP candidate.
Another incident took place at the polling station of Ward 13 in Dadu district where the PPP and PTI workers exchanged words. The PTI workers prevented PPP MPA Mujeebul-Haq and his supporters from entering the polling station. The PPP activists raised slogans. Later, policemen reached the spot and brought the situation under control.
-- Imran Khan urges people to come out and vote --
PTI Chairman and former prime minister Imran Khan urged people in Karachi, Hyderabad and Dadu to come out and vote for their representatives.
"Their vote today is essential if they want to change their lives," he said in a tweet.
I urge people in Karachi, Hyderabad and Dadu to come out and vote. Their vote today is essential if they want to change their lives.

— Imran Khan (@ImranKhanPTI) January 15, 2023
-- MQM announces boycott of Sindh LG elections --

The Muttahida Qaumi Movement Pakistan (MQM-P) on Saturday announced boycott of today's local government elections in Karachi and Hyderabad.
Addressing a press conference late Saturday in Karachi MQM-P Convener Khalid Maqbool Siddiqui said that they were going to boycott the local body polls because of their reservations that were not paid heed to.
He said that MQM was boycotting elections due to injustice and behaviour of the Elecxtion Commission. He said that they had contacted every forum including courts on the issue.
The MQM convener held Election Commission of Pakistan (ECP) accountable for monitoring the delimitation. He said that for delimitation they waited until the very last minute, adding that delimitation was the responsibility of ECP.
He said that they were contacted by the Prime Minister Shehbaz Sharif as well. Khalid Maqbool showed resolve to keep standing with federal government for the sake of democracy despite their reservations.
MQM-P Convener also said that even before the local body elections there was rigging and the elections were not acceptable for them.
He further said that they had struggled during the last six months at every level but the efforts of giving respect to vote could not be completed.
He was addressing press conference after a meeting with MQM-P's senior leadership including Farooq Sattar, Mustafa Kamal, Faisal Sabzwari and others.
Mustafa Kamal speaking at the moment said that the provincial government admitted the mistake of delimitation in 53 union councils and had written to the ECP. He said that in the past Jamaat-e-Islami s mayor only put up their names to projects but only MQM has served the people of the city.