Sanaullah asks CM Elahi to step down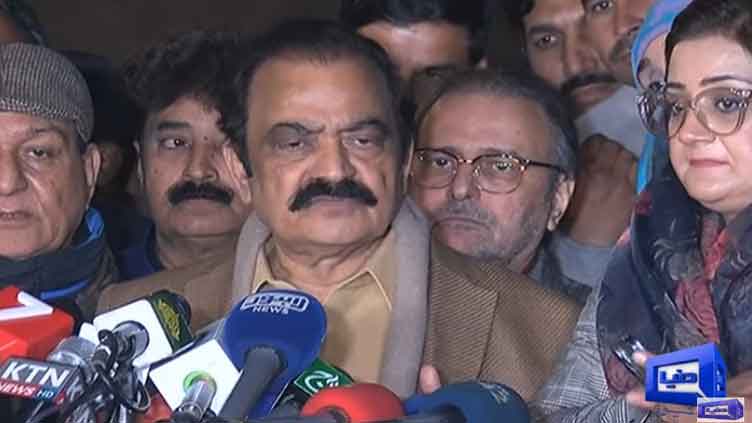 Pakistan
Sanaullah asks CM Elahi to step down
LAHORE (Dunya News) – Interior Minister Rana Sanaullah asked on Monday Punjab Chief Minister Parvez Elahi to step down.
In a press conference, Mr Sanaullah stated that the current speaker should not preside over the PA meeting on Elahi's vote of confidence, and that the PA meeting should be presided over by a panel of chairs. Demanding CM Elahi's resignation, Mr Sanaullah stated that he [Elahi] was not having complete number game to secure his position.
Speaking about the Wazirabad incident, Mr Sanaullah said that key suspect Naveed was a true accused in the gunfire incident, adding that a large amount of data was recovered from his [Naveed's] mobile phone. Mr Sanaullah said Naveed opened fire for at least eight times.
In response to the possibility of the government negotiating with the PTI, Mr Sanaullah stated that if PTI leader Fawad Chaudhry contacts the coalition government, there is a chance of holding talks with the PTI. Mr. Chaudhry, he [Sanaullah] added, had a better political mindset than the rest of the PTI leaders.
Drawing a line between the politics of the PML-N and those of his political opponents, Mr Sanaullah said, "To crush our political opponents is not on our party's agenda." He took a swipe at the PTI chief, saying, "Imran doesn't listen to others. It is important to solve the problems by negotiations, but not by taking a dig at others."
Going back to November 26, Mr Sanaullah said, "When Imran realised that people were not coming in large numbers, he [Imran] came up with the plan to dissolve the assemblies."
Mr. Sanaullah slammed Mr. Khan, claiming that he [Imran] was talking about the country's default for the past two months, which could left the country in political turmoil.
Taking about the establishment's role, Mr Sanaullah said, "At this point, the establishment is showing neutrality."
Continuing to berate the deposed premier [Imran], Mr Sanaullah said, "Imran is continuously involved in tussle with all the political parties, including the PML-Q. This person [Imran] is spreading anarchy. If Imran is not defeated by the power of the vote, the country will suffer the consequences."