No talks with any terrorist organisation: Sanaullah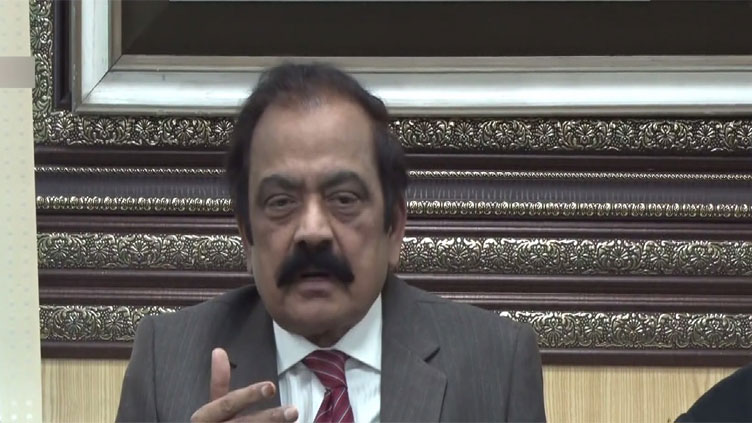 Pakistan
Sanaullah said NSC had made it clear that there would be no talks with any terrorist organization.
ISLAMABAD (Dunya News) - Minister for Interior Rana Sanaullah on Thursday said the National Security Committee had made it clear that there would be no talks with any terrorist organization.
Addressing a press conference, the minister said any organization that was used for terrorism against the people or state was unacceptable.
He said the Taliban had promised the entire world, including Pakistan, that they would not allow their land to be used for terrorist activities against any country.
He expressed the hope that if Afghanistan implemented this agreement, peace would be strengthened in Pakistan and the world at large.
Criticizing Pakistan Tehreek-e-Insaf (PTI) Chief Imran Khan, Sanaullah said he was such a cheat that he was not shot in the gunfire incident but was pretending of being shot for the last two months.
"If he was wounded in gunfire, he would have improved in two weeks, but he still says that he needs another month and a half to recover," he maintained.
He said items from the Tosha Khana were illegally sold by Imran Khan. On the other side, the thief was making a noise.
He said the property in the name of Al-Qadir Trust was worth six billion rupees and its trustees were only Imran Khan and Bushra Bibi.
He said no one else was involved in the firing incident on PTI rally in Wazirabad except the accused Naveed Bashir and the statement he gave was 100 percent correct as he was religiously motivated.
He said political stability was necessary for economic uplift, but due to Imran Khan's bad economic policies during his four years regime, the country suffered a lot, thus the situation worsened.
He said the nation should realize that Imran Khan had been running the campaign of defaulting the country for the last two months.
He said the Tosha Khana case, the foreign funding case or the Al-Qadir Trust case, all were white-collar crimes and being investigated.