AJK President seeks early implementation of UN resolutions on Kashmir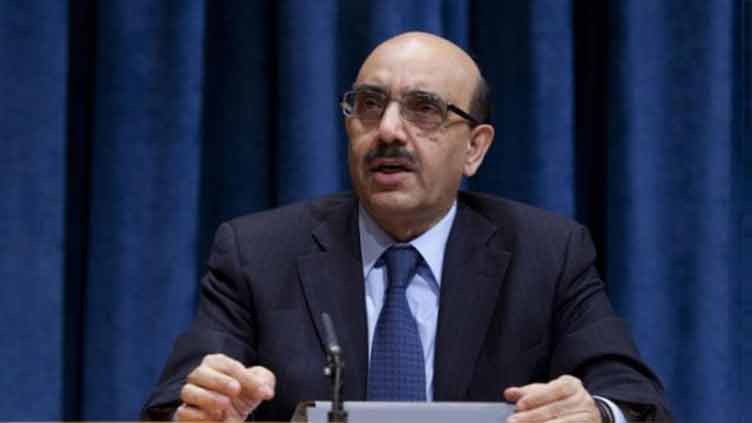 Pakistan
AJK President seeks early implementation of UN resolutions on Kashmir
MIRPUR (APP) - Azad Jammu and Kashmir President Barrister Sultan Mahmood Chaudhry has said that the people of Pakistan and AJK would stand shoulder to shoulder with their brethren in occupied Kashmir until they achieve their freedom from India's illegal occupation.
He expressed these views while addressing a seminar organized by Kashmir Policy Research Institute on the topic of Self-Determination Day and International Responsibilities at Jammu Kashmir House on the occasion of the Right to Self-Determination Day on Thursday.
The seminar was attended and addressed by scholars, intellectuals, journalists and students including Ambassador Zameer Akram, Ijaz Hussain Lone, veteran journalist Ershad Mahmud and several others.
Speaking on the occasion the president said that it was high time that all the political parties of Pakistan should bury their hatchet and come forward in a big way to show complete solidarity with their brethren in occupied Kashmir and send a strong message on the other side of the Line of Control that all the political parties in Pakistan are united on the issue of Kashmir.
The Kashmir day on February 5, he said would be observed with traditional zest and zeal saying that he would lead a solidarity rally himself this year. Referring to India's dangerous designs in the region the president mentioned that India was hellbent on changing the region's demography and bringing a Hindu Chief Minister on the same pattern as Israel did in Palestine.
Regarding the Indian rulers' policy of deceit and deception, he said India itself went to the United Nations but later on backtracked from the commitments it made at the world forum. "Indian Prime Minister Jawaharlal Nehru himself said in the Security Council that the future of Kashmir will be decided by none but the people of the State".
He said that the United Nations should implement its resolutions so that the people of Kashmir could decide their future peacefully.
The AJK president said that the youth should be given more information about Kashmir in order to educate the new generation.