Arshad Sharif's widow expresses nagging concern over JIT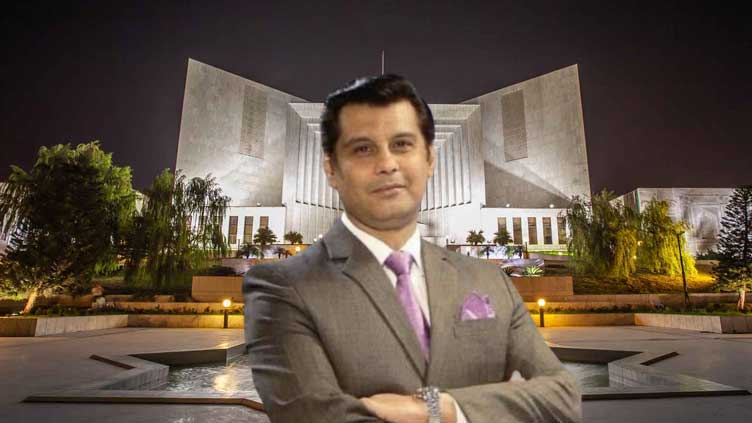 Pakistan
Arshad Sharif's widow expresses concerns over SC's JIT
ISLAMABAD (Dunya News) – Slain journalist Arshad Sharif's widow Javeria Siddique on Thursday expressed a lack of trust in the JIT constituted by the Supreme Court of Pakistan, which is probing Sharif's murder case.

Ms Siddique said the JIT members included by the Supreme Court were the officials working under the suspected authorities, adding that retired officers such as Allah Dino Khwaja and retired Gen Tariq Khan should be made part of the special JIT. However, the top court set aside the reservations, saying that only serving officials would be part of the JIT.
Earlier, Chief Justice of Pakistan (CJP) Umar Ata Bandial said the reasons and circumstances attached to the decision of slain journalist Arshad Sharif to leave the country should be probed. A five-member bench, headed by CJP Bandial, heard the suo motu case regading the killing of the Pakistani journalist in Kenya last year. Additional Attorney General Amir Rehman also attended the hearing.

During the hearing, the chief justice sought progress report on probe by the joint investigation team (JIT) into the murder of Mr Sharif. The additional attorney general submitted the progress report, stating that the JIT had recorded the statements of 41 people so far. He said the investigation had been divided into three phases with first part related to probe in Pakistan, and the case would be investigated in the UAE and Kenya in the remaining phases.

When Justice Ijazul Ahsan asked if the first part of the investigation was completed, the additional attorney general said phase one was almost complete. In reply to another question, he said it was difficult to give a time frame to complete the probe. He said the JIT would leave for Kenya after Jan 15 after completing investigation in Dubai.

Answering another question whether the United Nations would be included in the investigation, the government lawyer said it could be made part of it if necessary.

Justice Mazahar Naqvi said the JIT had been given a free hand, adding that the investigation should be transparent as the apex court was serious in this matter.

The CJP remarked that the government had delayed the procedure of writing a letter for mutual legal assistance to the foreign country. "It is not just the murder of Arshad Sharif but a matter of human rights," he commented. The top judge remarked that the digital equipment owned by Mr Sharif were yet to be recovered.

Justice Ijaz asked the JIT to get assistance from the Ministry of Foreign Affairs to make the UN part of the investigation.

The top court adjourned the hearing in the case till first week of February.

In October last, the senior journalist was shot dead by the Kenyan police in what they claimed a "mistaken identity" case while he was returning to Nairobi from Kenya's Magadi Town. The Kenyan police claimed that they opened fire after the vehicle breached a blockade.