Imran reckons assemblies' dissolution his constitutional right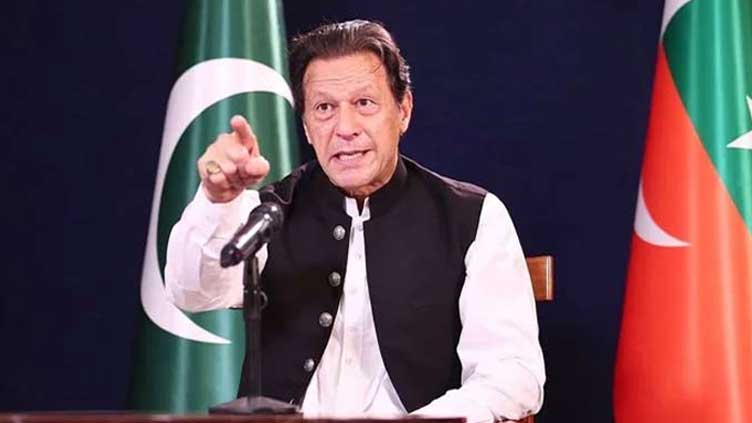 Pakistan
Imran reckons assemblies' dissolution his constitutional right
LAHORE (Dunya News) – Pakistan Tehreek-e-Insaf (PTI) Chairman Imran Khan reckoned on Wednesday the assemblies' dissolution his constitutional right.
The former premier emphasised the value of the rule of law again when speaking to a delegation of lawyers at his Zaman Park residence, claiming that without it, the nation could not advance. It is imperative to cease bowing to the United States in order to preserve the rule of law in the nation, Mr Khan continued. Mr. Khan made accusations against former army chief Gen (Ret.) Bajwa, claiming that the latter is to blame for the nation s economic woes.
Speaking further about the Punjab Governor s request for a vote of confidence from the Chief Minister, the delegation of lawyers said that the Governor s move was unconstitutional. The Manzoor Wattoo case is quite obvious in this regard, they added.
Mr Khan gave the lawyers the job of leading a nationwide movement for the rule of law.
On the other side, Mr Khan instructed the female lawmakers to accept the cash if the opposition ever tries to lure them by offering tickets in the future.
The female members informed Mr Khan that the opposition had promised them money and told to shifting them to an undisclosed location.
While, PTI leader Hammad Azhar urged the PTI followers to prepare for tomorrow s protest in front of the Governor House in Lahore.
Speaking about the PTI protest, Mr Azhar said, "PTI Chairman Imran Khan has given the protest his okay. The protest would take place at 5 pm".
The PTI s mandate has been blatantly sidelined, Mr Azhar continued, lashing out at the opposition. Mr Azhar took a swipe at former president Asif Ali Zardari, saying that he is busy spending money – to advance the interests of the opposition.