Zardari-Shujaat meeting held amid frantic activities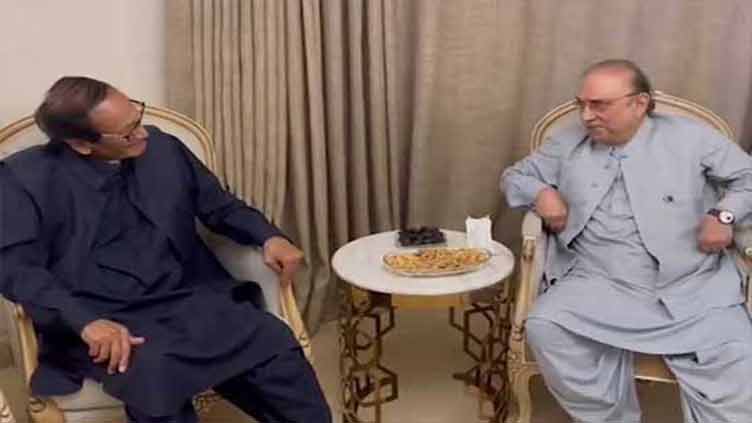 Pakistan
Asif Zardari, Ch Shujaat discuss political situation in another meeting
LAHORE (Dunya News) – Former president Asif Ali Zardari and Pakistan Muslim League-Quaid (PML-Q) president Chaudhry Shujaat Hussian on Tuesday met again amid tense political situation in Punjab.
The meeting underscored final thoughts on the vote of no-confidence against Punjab Chief Minister (CM) Chaudhry Parvez Elahi. Both of them agreed that Punjab would witness a new CM of their choice. The bigwigs also spoke to Prime Minister Shehbaz Sharif over telephone during the meeting. PPP s Nasir Hussian Shah, PML-N's Malik Ahmed Khan, PML-Q's Chaudhry Saalik Hussain and Tariq Bashir Cheema were also present.
A day ago, Salik Hussain met Asif Ali Zardari to discuss the political situation in the country as the date for assembly dissolution was approaching. Mr Zardari and Salik Hussain's meeting lasted 45 minutes at Bilawal House in Lahore. On this occasion, the PML-Q federal minister gave his father Chaudhry Shujaat Hussain's message to the PPP leader. Sources said Asif Zardari praised Shujaat Hussain's vision and contribution to politics.