Rana Sanaullah gets rid of blemish in narcotics case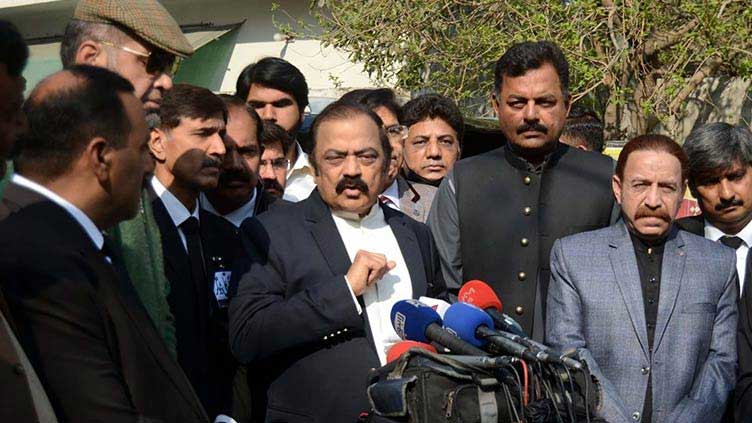 Pakistan
In July 2019, Sanaullah was arrested by the Anti-Narcotics Force's (ANF) Lahore team
LAHORE (Dunya News) – A special court on Saturday acquitted Interior Minister Rana Sanaullah in a narcotics case filed against him during the PTI government's tenure.

In July 2019, Sanaullah was arrested by the Anti-Narcotics Force's (ANF) Lahore team while he was travelling from Faisalabad to Lahore near the Ravi Toll Plaza on the motorway. The force claimed to have seized 15 kilogrammes of heroin from his vehicle and arrested five others, including the driver and security guards of the PML-N leader.
During the hearing today, ANF Assistant Director Imtiaz and Inspector Ehsaan termed the charges against Mr Sanaullah "incorrect" and "fake".
Separately, the two witnesses in the case also submitted their affidavits in court stating that the said drugs were not recovered in their presence.
Later, the court acquitted the PML-N leader and all the other accused in the case.
According to the FIR registered by the ANF deputy director operations under sections 186,189 and 353 of Pakistan Penal Code (PPC), and sections 15, 17 of 9C of the Control of Narcotic Substances Act (CNSA) 1997, the ANF had received information that Rana Sanaullah was involved in drug smuggling and taking heroin to Lahore. Section 9(C) of the CNSA 1997 carries death penalty or life imprisonment or a jail term that may extend to 14 years, along with a fine of up to Rs1 million.
He was twice denied bail by the trial court but the Lahore High Court released him on Dec 24, 2019.