Armed forces 'fully capable' of fighting terrorism: Sanaullah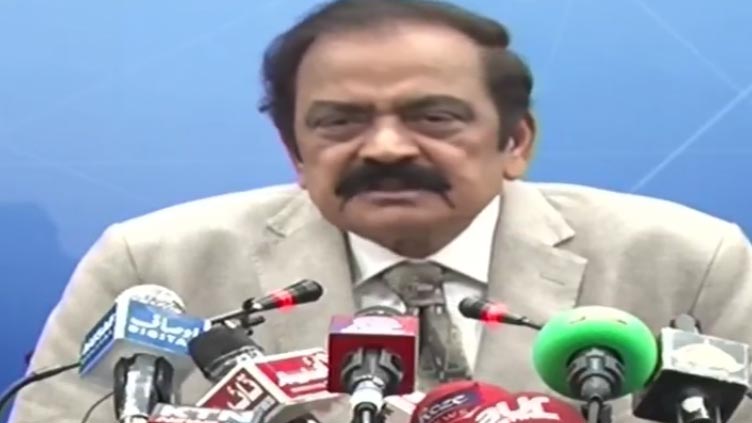 Pakistan
Armed forces 'fully capable' of fighting terrorism: Sanaullah
ISLAMABAD (Dunya News) – Interior Minister Rana Sanaullah said on Thursday the country's armed forces were fully capable of controlling the menace of terrorism and that Pakistan-based banned outfit's involvement in the act of terrorism posed threats to the regional peace.
"It's dangerous If the defunct militant organisation gets involved in terrorist activities in Pakistan and accepts responsibility for the attacks. But the government of Pakistan is taking steps to counter this [terrorism]," he said while speaking at a presser in the federal capital.
Condemning the Balochistan incident, the minister said the banned outfit is involved in the latest act of terrorism, advising the provincial governments to take concrete steps to prevent terrorism before the federal government takes this matter into its hands.
Sanaullah said the federal government was ready to extend support to all provinces, advising the governments of Balochistan and Khyber Pakhtunkhwa (KP) to take the matter seriously.
He further said political matters were a routine business, but the state [of Pakistan] was the priority, adding the KP's provincial chief executive could seek help from the Center.
The PML-N leader said PTI Chairman Imran Khan and his party had tried to create anarchy in the country and during their rule they fulfilled only one agenda of eliminating the Opposition.
"Khan developed the narrative of corruption to wipe the Opposition," he said, adding his [Imran] long march on November 29 failed "miserably".
Sanaullah said the PTI chief should had returned to the parliament after apologising to the nation as the PTI long march could hardly draw up to 6,000 people.
To a question, the interior minister dispelled the impression that they [the coalition partners] were afraid of the fresh elections, saying a strong election campaign would be run in Punjab if elections are announced.