Three killed, 28 wounded in suicide blast on police truck in Quetta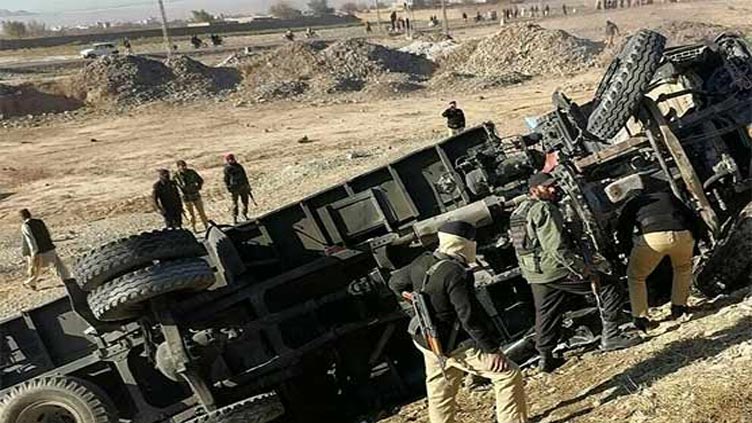 Pakistan
Three killed, 28 wounded in blast on police truck in Quetta
QUETTA (Dunya News) – At least three people including a woman were killed and 28 others, including 20 cops, injured in a suicide blast on a police vehicle in Balali area, witnesses and police said.
Emergency responders and police rushed to the scene to provide rescue assistance. Police said, adding 20 Balochistan constabulary cops and four citizens suffered multiple injuries.
Police said the explosion left a police truck and two other vehicles damaged. The injured were transported to the hospitals. A state of emergency was declared in Quetta hospitals.
Preliminary police investigations showed that a rickshaw hit the police truck. The Bomb Disposal Squad and forensic officials gathered necessary evidence from the crime scene.
The Quetta DIG said up to 25kg explosives were used in the blast. He said policemen were riding the truck to join their duty. The officer said the police movement on roads would be secured in more effective way.
The officer said the injured were being treated in Civil hospital, adding the policemen were being transported to deploy with the polio teams at the time of the incident.
Attack condemned
President Dr Arif Alvi, Prime Minister Shehbaz Sharif, interior minister Rana Sanaullah and Balochistan chief Minister Abdul Quddus Bizenjo condemned the terrorist attack and expessed sympthathies with the bereaved families.
President Dr Arif Alvi and Prime Minister Shehbaz Sharif on Wednesday strongly condemned the suicide attack at a police van deputed on the security of an anti-polio team and said such nefarious designs would not be allowed to harm the country's commitment to eliminate the disease.
In their separate statements on the terrorist incident in Quetta's Baleli area, the president and the prime minister expressed their resolve to continue efforts till the complete end of polio.
President Alvi paid tribute to the efforts of health workers and police personnel for saving the children of the country from the crippling disease.
He prayed for the forgiveness of the souls of the deceased and for the early recovery of the wounded.
PM Shehbaz Sharif said polio workers across the country were fulfilling their responsibilities without caring about their lives.
He stressed that eliminating polio virus from the country was amongst the top priorities of the government and vowed not to rest until polio was completely eradicated.
He asserted that 'evil elements' would fail to harm the anti-polio campaign in the country.