Military to remain 'apolitical' despite 'misleading narrative': Gen Bajwa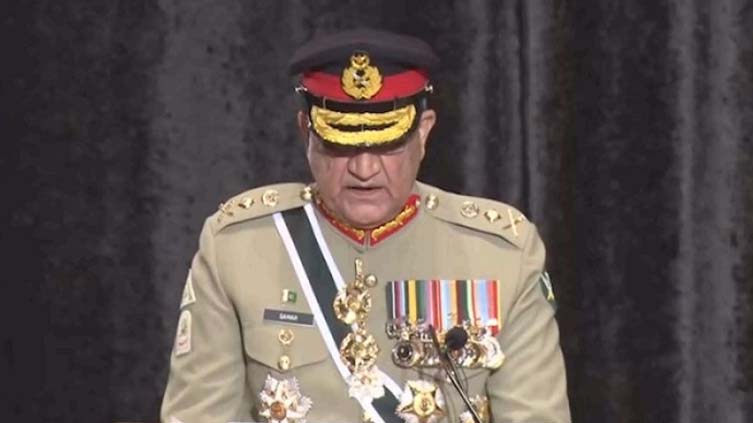 Pakistan
Military to remain 'apolitical' despite 'misleading narrative': Gen Bajwa
DUBAI (Dunya News) - Outgoing army chief General Qamar Javed Bajwa has said the Pakistan Army would implement on its decision and remain determined to remain apolitical despite "negative propaganda" and "misleading narrative".
"The armed forces have always played its role in overcoming internal conflicts and that the forces also maintained balance in the international politics through military diplomacy," he said while giving an exclusive interview to a UAE based daily.
He was of the view that some elements criticised the army for being apolitical, but this tradition [army of being apolitical] will help democracy prevail and flourish in [Pakistan] and promote political stability.
Gen Bajwa said the relations between the military and the people of Pakistan would also further improve after the Pakistan Army becomes apolitical.
He said the armed forces had to face severe criticism over playing "role" in the country's politics.
"I believe that public support and affinity towards the armed forces tends to erode when the military is seen to be involved in political affairs, and, therefore, I considered it prudent to shield Pakistan Army from the vagaries of politics in Pakistan," the army chief told Gulf News.
"Despite some criticism and undue vilification of the armed forces through mass propaganda and meticulously crafted false narratives, the institutional resolve to remain apolitical will remain steadfast. I am certain that this political quarantine of the armed forces will auger well for Pakistan in the long term by fostering political stability and strengthening the Army-to-people bond."
Relations with Gulf
Regarding Pakistan's relations with the GCC, the army chief said: "Military diplomacy is complementary to Pakistan's foreign policy and plays its due role in fostering Pakistan's bilateral relations with other countries, including in the Middle Eastern region."
"Our intimate engagements with the Arab countries at the leadership level have continuously helped nurture the long-standing ties and translate them into practical cooperation in areas of common interests."
Bajwa said he foresaw a very robust and broad-based relationship with Arab brothers in future, which remained exclusive and independent of their bilateral relations with other countries.
Major challenges
The outgoing army chief said Pakistan's western neighbour Iran's peculiar geo-strategic orientation had been a source of concern for the international community; however, Pakistan has always desired peaceful and friendly relations with our Muslim neighbour and tried to maintain a positive working relationship.
On the internal front, he said, Pakistan's successful counter-terrorism campaign had turned the tide of terrorism and "we continue to make meaningful efforts to overcome the menace of extremism and residue of terrorism".
"Streaks of political intolerance in our society is a worrisome new trend; we will keep striving for a society which is tolerant, rational and does not discriminate on the basis of political orientation, faith, ethnicity or creed."