Kashmir Black Day Seminar and Photo Exhibition held at Pakistan HC in London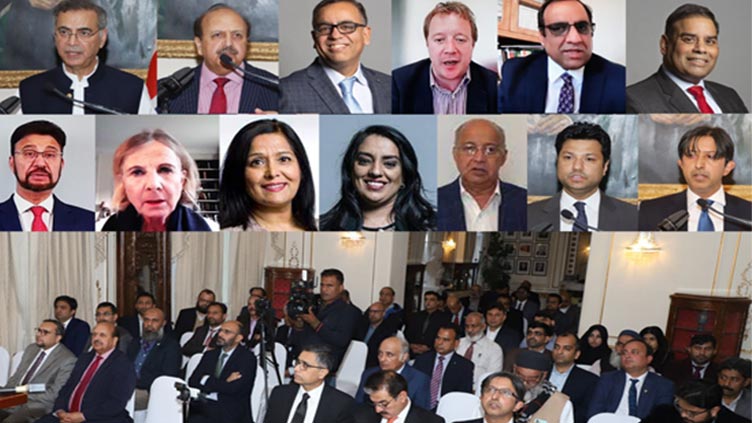 Pakistan
Kashmir Black Day Seminar and Photo Exhibition held at Pakistan HC in London
LONDON (Azhar Javaid/ Dunya News) - The High Commission for Pakistan in London organized a Seminar to observe Kashmir Black Day today. On this day in 1947, India forcibly occupied Jammu & Kashmir by landing its army in Srinagar against the will of the Kashmiri people.

High Commissioner Moazzam Ahmad Khan presided over the event, which was addressed, virtually and in-person, by cross-party British Parliamentarians including Lord Qurban Hussain, Paul Bristow MP, Khalid Mehmood MP, Yasmine Qureshi MP, Naz Shah MP, Afzal Khan MP and Muhammad Yasin MP. Besides, renowned historian Victoria Schofield, Shaffaq Mohammad former MEP, and Kashmiri Leader Raja Najabat Hussain also addressed the seminar. Kashmiri leaders, academia, human rights activists, British friends of Kashmir and media persons were in attendance.

In his remarks, the High Commissioner termed Kashmir Black Day a bleak milestone in the history of Kashmir when 75 years ago, India in violation of all norms of international law and morality, had landed its troops in Srinagar on the basis of a fraudulent instrument of accession. He highlighted the oppression of the innocent Kashmiri people by the Indian occupation forces.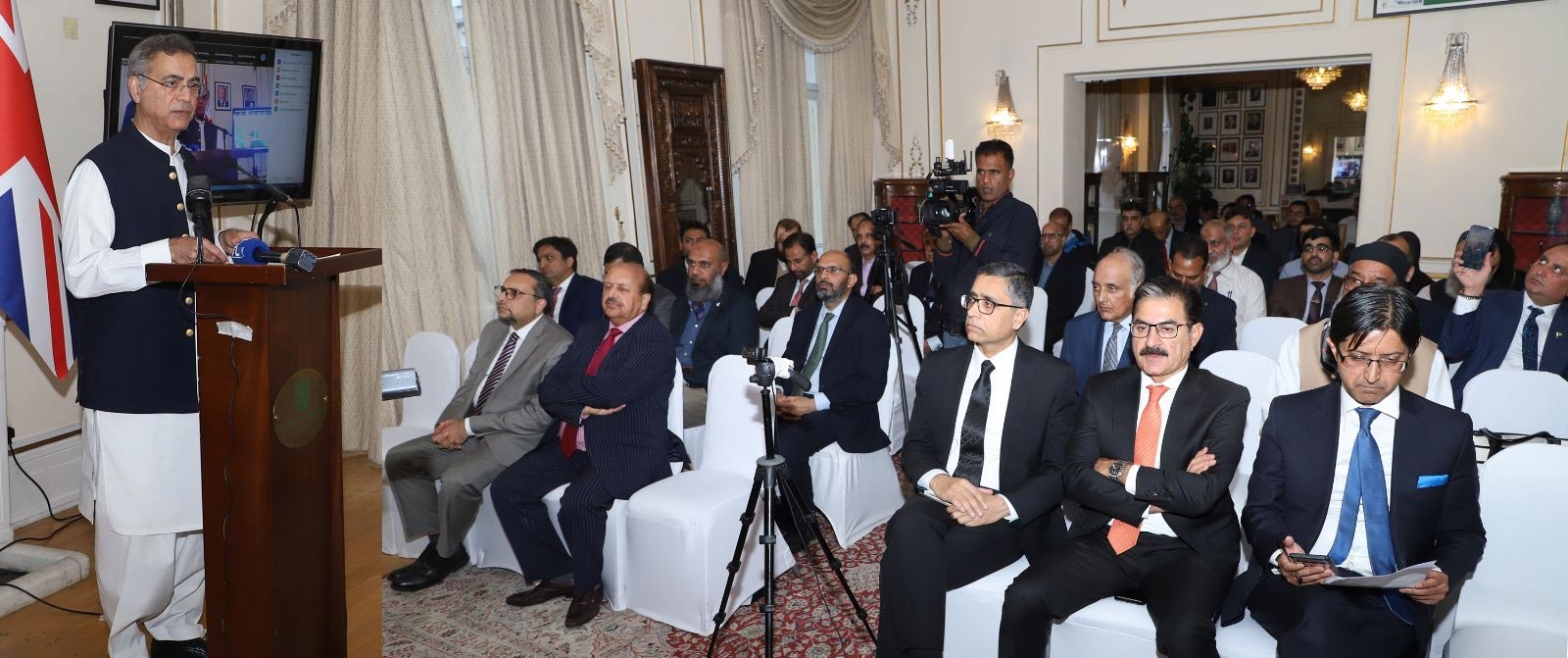 The High Commissioner said on 5 August 2019, the Hindutva inspired BJP government gave shape to a long-standing design to extinguish Kashmiri freedom struggle through illegal and unilateral steps and the Kashmiris' rights began to be usurped with ever greater barbarity. He said it was a travesty of justice that nearly 1 million troops were forcefully occupying, tormenting, and abusing an unarmed civilian population of some 8 million. Appreciating cross-party British Parliamentarians' support for the cause of Kashmir, the High Commissioner urged them to step up the efforts for the just resolution of the Kashmir dispute. He reiterated Pakistan's continued political, diplomatic and moral support to the Kashmiris.

The British Parliamentarians and other speakers expressed solidarity with the Kashmiris and showed deep concerns over the worsening humanitarian crisis in IIOJK. They called upon the UK Government to play its due role to protect the rights of the Kashmiri people. The Parliamentarians assured to continue raising the issue of human rights violations in the UK s Parliament and other platforms. The speakers also urged India to allow access to human rights and humanitarian organizations on its side. Besides, they demanded meaningful intervention by the international community to resolve the conflict according to the relevant UN Security Council Resolutions.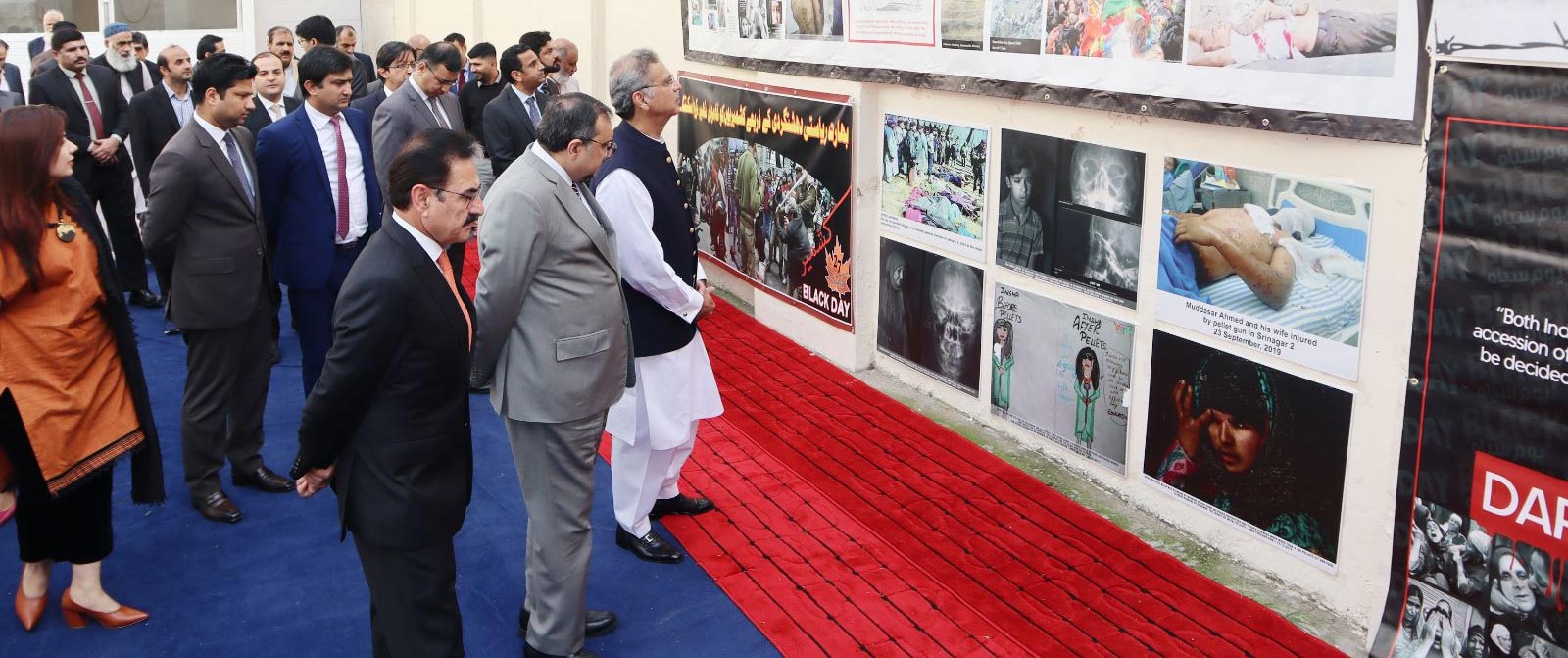 The successive speakers underscored that the Kashmir issue was not a bilateral matter between Pakistan and India; rather, it was a matter of human rights and the right to self-determination. They also called upon the UK Government to ensure protection of human rights in IIOJK while concluding a trade deal with India.

Earlier, the High Commission for Pakistan in London organized a day-long Photo Exhibition to highlight human rights violations in IIOJK. A large number of Kashmiri community and British friends of Kashmir visited the exhibition during the day, paid tributes to the Kashmiri victims and expressed solidarity with the oppressed Kashmiris.