Ishaq Dar nominated as new finance minister after Miftah resigns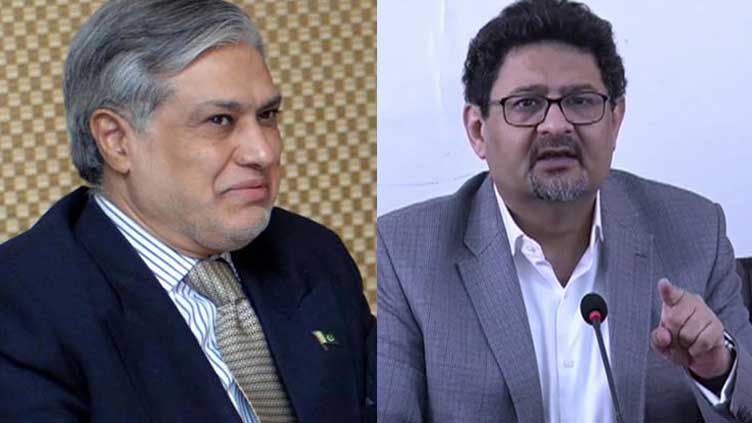 Pakistan
Ishaq Dar nominated as new finance minister after Miftah resigns
LONDON (Dunya News) – Miftah Ismail on Sunday resigned as finance minister in line with the party's decision while Ishaq Dar has been nominated as Miftah's replacement.
The Pakistan Muslim League – Nawaz (PML-N) supremo Nawaz Sharif and Prime Minister Shehbaz Sharif held a meeting in London to discuss the ongoing situation in the country and measures taken by the sitting coalition government.
The meeting was also attended by former Finance Minister Ishaq Dar, Marryium Aurangzeb, Miftah Ismail, Malik Muhammad Ahmad Khan and Ahad Cheema.
During the meeting, Miftah Ismail tendered his resignation to Nawaz Sharif and thanked the PML-N leadership for providing him with the opportunity and said that he diligently served his duties during his four-month brief tenure.

While accepting his resignation, Nawaz Sharif praised Miftah's efforts and the way he carried out his duties at a time when the country was facing an economic crisis.
The position was adopted in the meeting that the current government had to extinguish the economic disaster caused by the previous government, while Nawaz Sharif and the premier nominated Senator Ishaq Dar as the Finance Minister.
Ishaq Dar, himself, had told Dunya TV in an interview that he will be coming back to Pakistan along with PM Shehbaz on Sunday and will take oath as Senator on Tuesday, adding that after the decision of PML-N bigwigs, he would take oath as Finance Minister on Wednesday.