Pakistan, Germany vow to further deepen bilateral ties in fields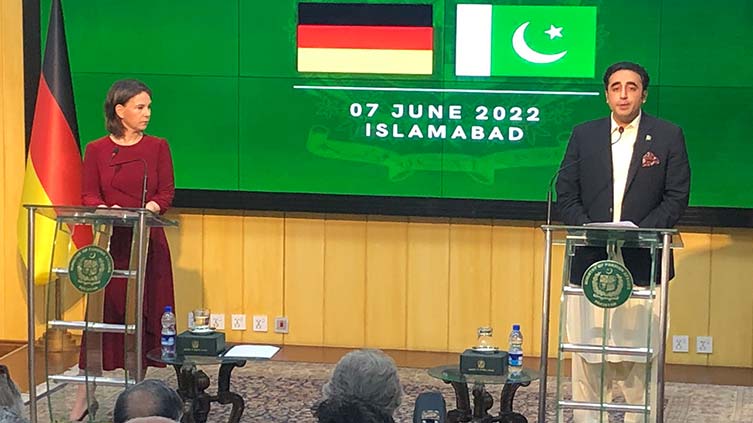 Pakistan
Bilawal said Pakistan looks forward to continuing to work with Germany.
ISLAMABAD (Dunya News) - Pakistan and Germany have expressed the resolve to further deepen their bilateral ties in fields.
The resolve was expressed by Foreign Minister Bilawal Bhutto Zardari and his German counterpart Annalena Baerbock, while addressing a joint press conference in Islamabad on Tuesday.
Speaking on the occasion, Bilawal said Pakistan has close cooperation with Germany in a number of areas and we desire to expand it further up to other areas of mutual benefits of the two countries.
He said Pakistan looks forward to continuing to work with Germany for further deepening bilateral ties.
He said Germany is the largest trading partner of Pakistan within the European Union and also the 5th largest export destination for Pakistan internationally.
He said last year, Pakistan exports to Germany stood at 2.5 billion dollars, while imports from Germany were 1.3 billion dollars.
The Foreign Minister said Germany is the 7th largest Foreign Direct Investor in Pakistan with 35 German companies are investing in the Pakistan.
Turning to Afghanistan, Bilawal Bhutto said we support a peaceful and prosperous Afghanistan contributing to stability and regional connectivity.
He said the international community must be actively engaged in preventing humanitarian crisis in Afghanistan.
On Ukraine issue, the Foreign Minister said Pakistan remains concerned about the well-being of the Ukrainian people, reports of civilian casualties, massive outflow of refuges and internally displacement of people.
He said we have expressed solidarity with the people of Ukraine and sent humanitarian assistance to that country.
He said we emphasize the indispensability for the immediate cession of hostilities and constructive engagement regarding Ukraine.
Bilawal Bhutto said Pakistan firmly hopes that the solution should be found through dialogue and diplomacy at the earliest.
The Foreign Minister said we discussed the continuing human rights violations in Indian illegally occupied Jammu and Kashmir, the rising tide of Islamophobia across India and risks posed to the regional peace and stability.
He said sustainable peace in South Asia remains contingent upon the peaceful resolution to the Jammu and Kashmir dispute in accordance with the relevant UN resolutions and the wishes of Kashmiri people.
Speaking on this occasion, the German Foreign Minister thanked Bilawal Zardari for extending warm welcome at her arrival in Pakistan.
While German FM Annalena Baerbock said that Pakistan is directly affected by the problems in Afghanistan as Pakistan gives shelter to several migrants from Afghanistan. While she said that Afghanistan needs economic support for the eradication of problems of Afghan citizens.