Sardar Abdul Qayyum sends his resignation as AJK PM to President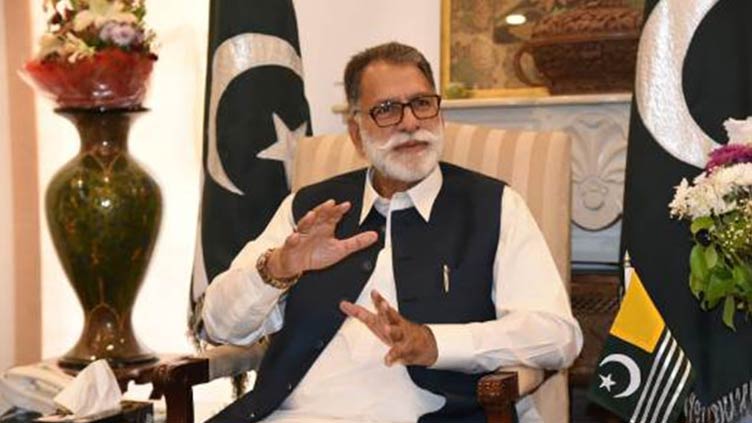 Pakistan
Sardar Abdul Qayyum sends his resignation as AJK PM to President
MUZAFRABAD (Dunya News) - Prime Minister of Azad Jammu and Kashmir Sardar Abdul Qayyum Khan Niazi on Thursday has sent his resigantion his position to President Dr Arif Alvi.
Addressing a press conference in Islamabad on Thursday, he said that he has been accused of violating merit and good governance and he decided to resign in a dignified manner.
The AJK PM said that not a single penny of the state was allowed to be tainted by corruption, adding that money was used in Kashmir council elections and fight started on bribe in Kashmir council tickets.
He said five people showed Imran Khan s fake letter and signed a no-confidence motion, adding that those who presented the motion were expelled from the cabinet.
He further said that he fought against fabricated allegations, adding that if he had told me earlier, he would have handed over the party s trust to Imran Khan.
Sardar Abdul Qayyum Niazi said that after 20 years local body elections were announced in Azad Kashmir and departmental reforms were introduced. Regarding the no confidence against his government, he said he was not even found guilty in charge sheet, institutions were reformed as per manifesto and eliminated corruption from the liberal cell.
It may be recalled that Sardar Abdul Qayyum Kha Niazi had removed five his ministers from the ministry earlier in the morning.
According to the sources, Sardar Abdul Qayyum after sacking the ministers, also decided to resign from his seat.
The removed ministers include Tanveer Ilyas, Abdul Majid Khan, Ali Shan Soni, Khawaja Farooq and Akbar Ibrahim.