Rana Shamim committed contempt of court as he tried to harm IHC's credibility: Qureshi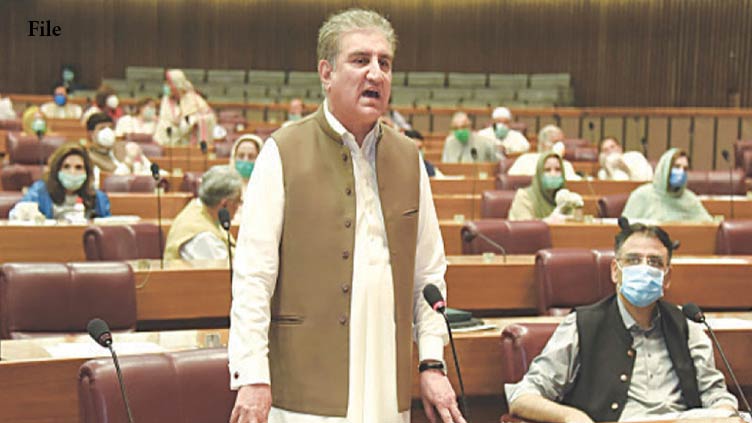 Pakistan
Pak's economy getting stable with ratio of 5.3 despite coronavirus: Qureshi
ISLAMABAD (Dunya News) – Foreign Minister Shah Mahmood Qureshi on Friday has said that former Chief Judge of Gilgit Baltistan Rana Shamim committed contempt of court as he tried to affect the credibility of Islamabad High Court (IHC).

Speaking in Lower House of the Parliament, National Assembly, the minister said that democracy can only be protected with free judicial system.
Talking about the current economic condition, Qureshi said that Pakistan's economy is getting stable day-by-day with the ratio of 5.3 despite coronavirus pandemic.

The country's economy was sinking when Pakistan Tehreek-e-Insaf (PTI) came into power. Now, Economists and Bloomberg are also admitting that our economy is flourishing, he added.

Criticizing the opposition parties, the FM said that PTI is not afraid of its opponents as inflation is currently the biggest challenge in the country. Spreading disappointment is not in the interest of the country, he stressed.
Earlier, the house passed two resolutions extending the Diplomatic and Consular Officers (Oath and Fees) Amendment Ordinance 2021 and National Rehmatul Lil Alameen Authority Ordinance, 2021 for a further period of one hundred and twenty days.
The Statement of Contingent Liabilities of the federal government for the current fiscal year was laid before the house. The annual reports of the Council of Islamic Ideology for the period from 2012-18 and the report on Islamic Law of Inheritance were also laid before the house.
The National Assembly adopted a motion allowing the use of its hall for the 48th session of the OIC Council of Foreign Ministers to be held in March.
The motion was moved by Foreign Minister Shah Mahmood Qureshi.
At the outset, the house offered fateha for those martyred in yesterday's bomb blast in Lahore.