PTI funding case: Shehbaz Sharif demands to make all eight volumes public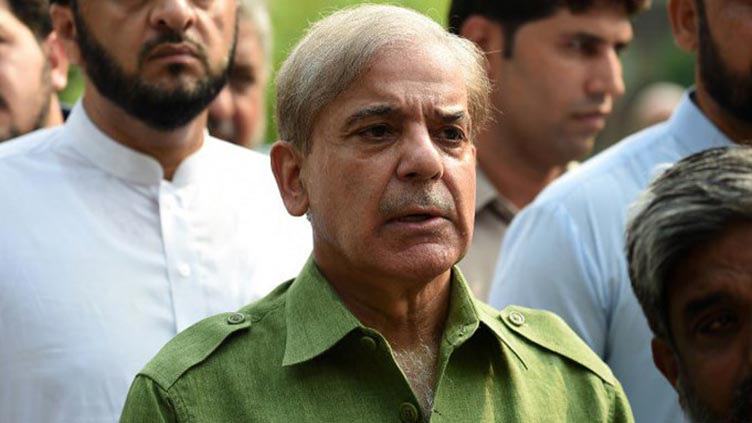 Pakistan
The PML-N leader said that the purpose behind holding inquiry was to unearth the record.
LAHORE (Dunya News) – Pakistan Muslim League-Nawaz (PML-N) President and Opposition Leader in National Assembly (NA) Shehbaz Sharif on Tuesday has demanded the Election Commission of Pakistan (ECP) to make public all the eight volumes in connection with Pakistan Tehreek-e-Insaf (PTI) funding case.

In a statement, the PML-N leader said that the purpose behind holding inquiry was to unearth the record. ECP should not get afraid of any threat or pressure, he added.
Shehbaz Sharif said that hiding foreign funding case is the proof of Prime Minister (PM) Imran Khan's crimes.
Earlier, PML-N president said that Imran Khan should give resignation over Murree tragedy and a judicial commission must be formulated.
While addressing the National Assembly session, he said that the government is responsible for deaths of 23 people. The country will not forgive the incumbent government. The Meteorological Department had warned of heavy snowfall, why the government did not make arrangements, did the government issue a red alert which was badly needed. There was no snow removal machinery, poor people kept looking at the sky, there was no one in Murree, surely death is from Allah, it was the worst incompetence and mismanagement, he stated.
The opposition leader added that thousands were stranded with no one to help for 20 hours, whether it was a natural disaster or a human error, there was no arrangement in Murree.
He went on to say that in areas like Murree, issues are solved every year, billions of machinery were called in the city. The PML-N government had created SOPs regarding Murree.
On behalf of the entire House, I condemn the tragic incident in Murree. Thousands of people were stuck in vehicles for 20 hours in the area, he stated.