Travel ban from Islamabad to Murree extended for another 24 hours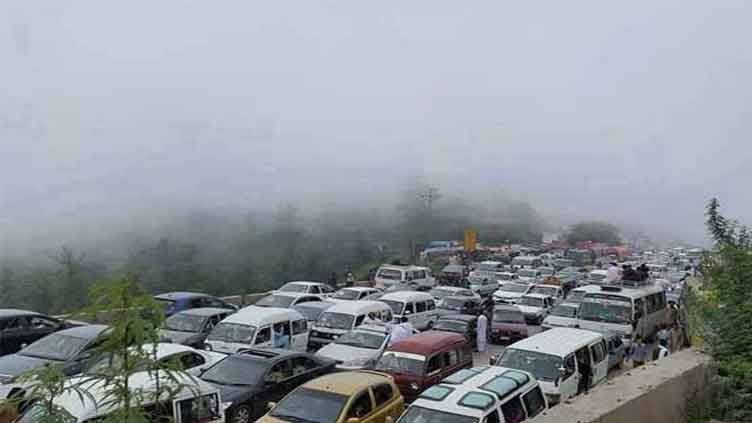 Pakistan
Travel ban from Islamabad to Murree extended for another 24 hours
ISLAMABAD (Dunya News) - In wake of extreme weather conditions in Murree, the authorities have decided to extend the travel ban from Islamabad to Murree for another 24 hours.
According to details, the announcement was made by Islamabad Deputy Commissioner Hamza Shafqaat on Twitter.
Taking to Twitter, the Islamabad Deputy Commissioner informed that the travel ban from Islamabad to Murree was being extended for another 24 hours. "No unnecessary visitor / tourist will be allowed to go beyond Murree Road / Bara Kahu," said the Deputy Commissioner.
The Tweet also urged the public to follow the instructions issued by the government as several people have lost their lives in the calamity-hit Murree over the weekend.
Earlier today, after the rescue and relief operation of Pakistan Army, Inter-Services Public Relations (ISPR) announced on Sunday that all major roads have been opened for traffic in Murree.
According to the details issued by ISPR, the soldiers of Pakistan Army are still working to open the minor link roads while the stranded tourists have been shifted to Islamabad.
Meanwhile, Pakistan Army established relief camps in Murree. The engineers are busy in opening the roads and the other groups of soldiers have been deployed to provide food and water to the relief camps. On the other hand, the healthcare units are fully functional to render services to the people of the country.
At least 23 people lost their lives while being trapped in their vehicles after snowstorm in Murree and other northern areas of the country.
The soldiers of Pakistan Army assisted the civil administration participated in relief activities to rescue the stranded tourists.
Over 100,000 cars had entered the scenic town of Murree in the past few days to see the unusually heavy snowfalls, causing an enormous traffic jam on roads leading in and out.
Rescue 1122 service has released the details of the people who have lost their lives trapped in their cars.
On the other side, Interior Minister Sheikh Rashid on Sunday announced that the routes leading from Islamabad to Murree and Galiyat will remain closed for the next 24 hours.
Moreover, he said that only the locals will be allowed to move towards the dangerous routes once they show their National Identity Card (NIC).
The minister went on to say that the conditions of Murree and Galiyat are consistently being monitored. For tourists, the decision of opening the routes will be taken as soon as the conditions become favorable.