Imran Khan hid 53 accounts from ECP: Fazlur Rehman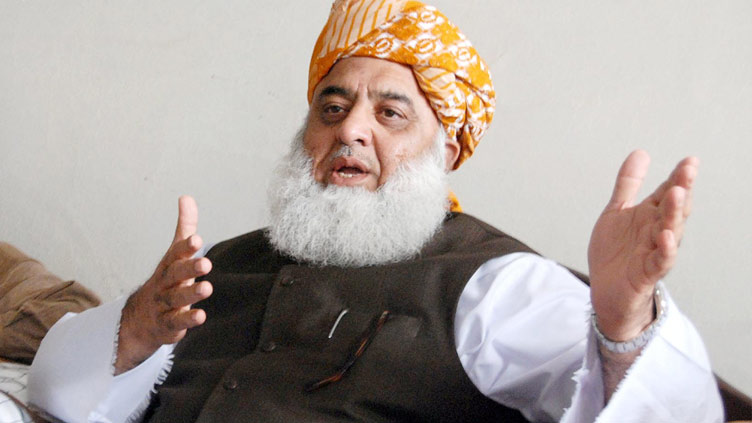 Pakistan
JUI-F head accused Imran Khan of working and protecting interests of foreign powers.
PESHAWAR (Dunya News) – Pakistan Democratic Movement (PDM) head Maulana Fazlur Rehman on Wednesday said that scrutiny committee report is an eye opener as Imran Khan hid 53 bank accounts from Election Commission of Pakistan (ECP),
Maulana Fazlur Rehman, while talking to party office bearers, said that even slight indications of embezzlement in funds is a serious issue as several suspected individuals and organization provided funds from other countries.
He accused Imran Khan of working and protecting interests of foreign powers and expressed reservations over delay in proceedings of the case.
JUI-F head further said that Imran Khan is not concerned by issues faced by the country and this government is negatively affecting the future of Pakistan.
---
Scrutiny committee's report is damning indictment of PM: Shehbaz Sharif
---
On the other hand, Pakistan Muslim League-Nawaz (PML-N) President and Opposition Leader in National Assembly (NA) Shehbaz Sharif on Wednesday has said that scrutiny committee's report is a damning indictment of Prime Minister (PM) Imran Khan.
In a post on social-networking website Twitter, the PML-N president has said that truth has a strange way of exposing people. Pakistan Tehreek-e-Insaf (PTI) has been running away from foreign funding case for last seven years and now we know why, he added.
Shehbaz Sharif said the facade of "Sadiq aur Ameen" has been shredded into pieces.
The reaction came after a report of scrutiny committee in PTI illegal funding case had revealed that income and expenses of the party during the period of 2009 to 2013 did not match.