Published On 10 October,2021 01:54 pm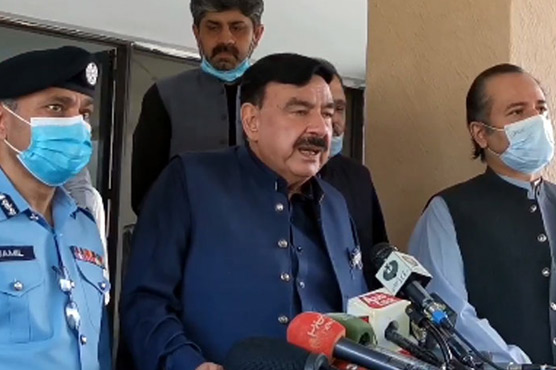 Dr Abdul Qadeer Khan will be buried with all-State Honors : Interior Minister
ISLAMABAD (Dunya News) – Federal Interior Minister Sheikh Rashid Ahmed on Sunday said that funeral prayers of Pakistan's renowned nuclear scientist Dr. Abdul Qadeer Khan will be offered at Faisal Mosque, Islamabad at 3.30 p.m. on Sunday.
While talking to the media in Islamabad, the minister said that high ranking military officials, civil administration and politicians will attend the funeral prayers of Dr. Abdul Qadeer Khan.
He said general public is also allowed to attend the funeral prayers and in this regard district administration, FC and Rangers have been directed to assure proper security arrangements.
Sheikh Rashid said Dr Abdul Qadeer Khan will be buried with all-State Honors and national flag will fly at half-mast. He said the final decision of his burial rests with his family while we have made arrangements at Faisal Mosque as well as at H-8 graveyard.
The Minister also paid tribute to the services of country's great scientist.
It merits mention that nuclear scientist Dr Abdul Qadeer Khan, who was ill from some time, passed away on Sunday at the age of 86.
Dr Abdul Qadeer Khan was considered the father of Pakistan's nuclear program and is revered at home as a hero for building the Muslim world's first atomic bomb.
Dr Abdul Qadeer Khan's health started to deteriorate last night, after which he was brought to hospital in the morning. Doctors tried their best to save the scientist's life, however, were unable to do so and he passed away.