Published On 08 September,2021 05:58 am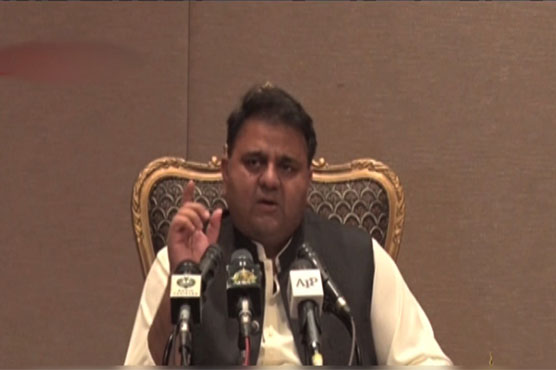 Fawad Chaudhry said both the PML-N and PPP were resisting the electoral reforms deliberately.
ISLAMABAD (Dunya News) - Minister for Information and Broadcasting Chaudhry Fawad Husain on Tuesday said the government was committed to introduce Electronic Voting Machines (EVMs) in the next general elections to ensure free, fair and transparent polls, but the opposition showed no interest in carrying electoral reforms due to their vested interests.
"If free and fair elections are held in Pakistan, the PML-N (Pakistan Muslim League-Nawaz) will never win and the politics of Sharif family will come to an end. Therefore, they have no interest in the electoral reforms," he said while addressing a news conference after meeting of the federal cabinet chaired by Prime Minister Imran Khan.
The minister said that not a single government in the past including PML-N and Pakistan People's Party had ever made efforts to improve the electoral system in the country and now when they were in opposition, they were still resisting the move.
He said it was unfortunate that the Pakistan Tehreek-e-Insaf government had to deal with the most non-serious, incapable and inefficient opposition of the history of the country. Their only interest was to save the party's leadership from the ongoing accountability process, he added.
Fawad said they had never given any viewpoint on the ongoing Afghanistan situation or the issue of refugees looming large over the country, regretting that the party of Mohtarma Shaheed Benazir Bhutto was being run by 'political clowns'.
He said the government made every effort to persuade the opposition on electoral reforms, but unfortunately, the opposition had developed a habit of rejecting the government drafts for reforms without even reading its single word. They even did not bother to give their own proposals for electoral reforms, he added.
The minister said both the PML-N and PPP were resisting the electoral reforms deliberately as they knew that both Maryam Nawaz and Bilawal Bhutto Zardari could only become the prime minister through manipulated and rigged general elections.