Published On 06 September,2021 10:45 pm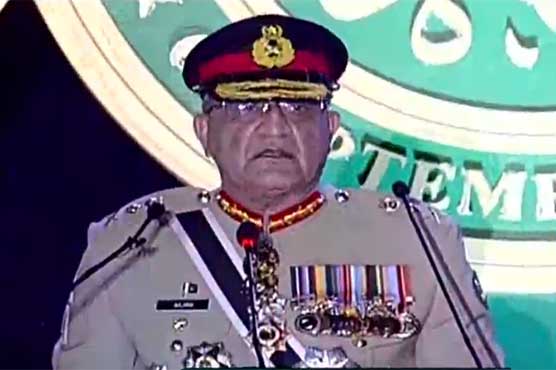 Our enemies using non-traditional means including propaganda to achieve their nefarious objectives
RAWALPINDI (Dunya News) – Chief of Army Staff (COAS) General Qamar Javed Bajwa has expressed resolve to deal strictly with all external and internal threats.
Addressing a ceremony in connection with Defence and Martyrs Day held at the General Headquarters in Rawalpindi, the army chief said that defending homeland is sacred duty and we love it more than our own lives.
"There is no more room for any kind of extremism or violence on this land, and that no individual or group aside from the armed forces and law-enforcement agencies would be allowed to display weapons or use them. No individual or group will be allowed to blackmail the state on the basis of area, ethnicity, ideology or religion," he said.
"The use of force is the sole prerogative of the state and we will not spare any sacrifice in the journey of peace and development. The sacrifices of the martyrs will not go in vain."
COAS Bajwa said that Pakistan s armed forces are capable to fight all external and internal threats in a befitting manner. "We have fought every enemy courageously and achieved self-sustainability in defence capabilities which made the country s defence impenetrable."
The army chief said there is no doubt that the relationship between Pakistan Army and the nation is the strong shield that has always defeated the enemy s black-handed tactics against the motherland.
Stressing the changing nature of warfare in the current era, the army chief said that instead of large-scale war, modern technology and ways of communication and other tools were used to weaken a nation s unity and ideological boundaries, spread chaos in different sectors and demoralise the people.
"Our enemies are also using non-traditional means including propaganda and disinformation to achieve their nefarious objectives. But while the state is aware of the plots of external enemies, we will have to deal strictly with some internal elements spreading chaos," Gen Bajwa noted.
"It is a moment of reflection for all of us that some people are being used by anti-state elements. This is called hybrid or fifth-generation war. Its purpose is to make Pakistan s roots hollow and damage the country s unity. InshAllah, we will never let these negative objectives succeed."
---
Pakistan wants stable, inclusive govt in Afghanistan
---
Gen Bajwa expressed solidarity with the people of Afghanistan, saying that Pakistan s desire was to see the Afghan leadership settle everything through discussion and provide peace and happiness for their people. "Pakistan wants a stable inclusive setup in Afghanistan and it will definitely change the fate of the war-hit country," he added.
He also hoped that the neighboring land will not be used against anyone, adding that the Pakistani nation stands with the Afghan brothers. "Pakistan also expected that the world would not leave the Afghan nation alone in this difficult time."
---
Pakistan rejects India's unilateral steps in Kashmir
---
The army chief also clarified that Kashmir has a central importance to relations between Pakistan and India. "Pakistan rejected all of India s unilateral and illegal steps taken in Kashmir on August 5, 2019, and paid tribute to the spirit of Hurriyat of Kashmiris, the sacrifices of martyrs and especially Syed Ali Geelani s long and great struggle."
He also reaffirmed Pakistan Army s support to the Kashmir cause and the people of Indian occupied Kashmir. The COAS said the world must know that without peaceful resolution of Kashmir issue, peace and stability will remain elusive in the region.
---
Pakistan's strength, preservation in democracy
---
Gen Bajwa called upon the nation to work to make Pakistan progressive, peaceful and a modern Islamic and welfare state. "Pakistan s strength and preservation are in democracy. To make it more stable, we will have to follow the principles of following the Constitution, justice, tolerance and equality," he said, adding that negative attitudes like criticism for the sake of criticism, hatred and intolerance should be discouraged.
"If Pakistan has to progress, we will have to bury our ego and self-interest. We should work along the lines of people s progress and happiness, regional cooperation and acquiring modern technology instead of the negative traditional geopolitical thought against each other."
He further said that education, health, infrastructure development, population control and climate change should be our priorities.