Country's political leadership expresses heartfelt sorrow over demise of Syed Ali Gilani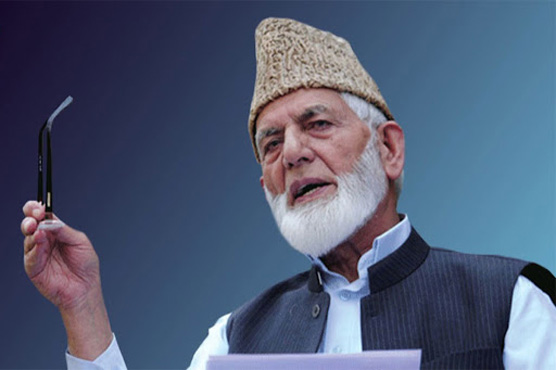 Syed Ali Gilani had been under house arrest for the last many years.
ISLAMABAD (Dunya News) – Leadership of country's political parties have expressed heartfelt sorrow over sad demise of Hurriyat leader Syed Ali Gilani.
Prime Minister Imran Khan in his tweet said, "Deeply saddened to learn of the passing of Kashmiri freedom fighter Syed Ali Gilani who struggled all his life for his people & their right to self-determination."
Imran Khan said that he suffered incarceration and torture by the occupying Indian state but remained resolute.
We in Pakistan salute his courageous struggle and remember his words: "Hum Pakistani hain aur Pakistan Humara hai", Imran Khan stated.
PM Imran said that the Pakistan flag will fly at half-mast and we will observe a day of official mourning.
On the other hand President Arif Alvi also expressed grief and sorrow over the demise of brave Hurriyat leader Syed Ali Gilani.
President in his statement said that with the death of Syed Ali Gilani Kashmir has lost a great leader.
President of Pakistan Muslim League-Nawaz (PML-N) and Opposition Leader of National Assembly Shehbaz Sharif lauded lifelong struggle the Hurriyat leader and said that he was true to his cause and left the world with the slogan 'We are Pakistanis, Pakistan is ours'.
The PML-N President said that Ali Gilani was a great freedom fighter and a visionary leader who held the flag of independence of Jammu and Kashmir throughout his life.
Foreign Minister Shah Mehmood Qureshi on his Twitter handle while expressing regret over sudden demise of Hurriyat leader said Pakistan mourns the loss of Syed Ali Shah Gilani, torch bearer of the Kashmir freedom movement. Shah Sb fought for the rights of Kashmiris till the very end, under house arrest of Indian occupation. May he rest in peace and may his dream of freedom come true.
Minister for Information and Broadcasting Chaudhry Fawad Hussain and Minister of State for Information and Broadcasting Farrukh Habib have also expressed grief and sorrow over the sad demise of veteran Kashmiri leader Syed Ali Gilani.
In his video message the Information Minister said the sad news of Gilani's death has shocked and saddened the people of Kashmir as well as Pakistan.
He said the candle to fight against Indian tyranny lit by Syed Ali Gilani in Kashmir would continue till winning independence.