PDM announces public gathering in Karachi on Aug 29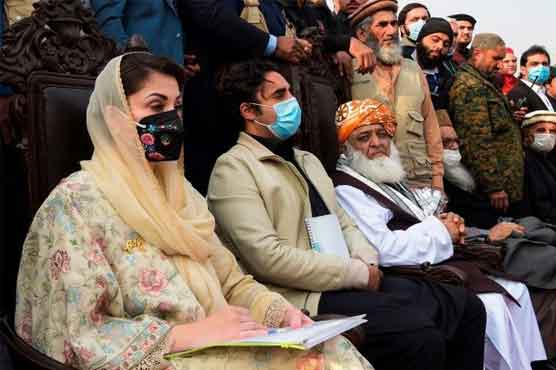 Govt's three-year performance, corruption & incompetence to be brought to notice of nation
ISLAMABAD (Dunya News) – Pakistan Democratic Movement (PDM) on Saturday announced holding a public gathering in Karachi on August 29.
According to the details, a meeting of the anti-government alliance PDM was held under the chair of senior PML-N leader Ahsan Iqbal. Former premier Shahid Khaqan Abbasi, JUI-F leader Abdul Ghafoor Haideri, Hafiz Hamdullah, Hamidullah, Sikandar Sherpao and other officials attended the meeting.
The session discussed the political, internal and economic situation of the country. The dates of anti-government rallies and demonstrations will be decided in the steering committee meeting. The final approval of steering committee decisions will be given on August 28. The consultations on the government s three-year performance were also held during the steering committee meeting.
Speaking to the journalists after the meeting, Shahid Khaqan Abbasi said that eight parties participated in today s meeting, PDM meeting will be held in Karachi on August 29. He also said that the PDM is an alliance of opposition parties of the country. "The PDM wants the country s affairs to be run in accordance with the constitution," he added.
The former premier said that PDM is a forum which talks about the supremacy of the constitution in Pakistan. "The meeting set a schedule for holding meetings and rallies in the country, which will be announced after the August 28 meeting."
The PML-N leader said that the purpose of electronic voting machine (EVM) is to support robbing in the elections, adding that the purpose of government electoral reforms is to facilitate vote theft. He also mentioned that it is a matter of unilateral electoral reforms, will show the way to reduce the problems of the people.
"The three-year performance of the government, its corruption and incompetence will be brought to the notice of the nation, all the facts will be collected and a white paper will be issued on the performance of the government," Khaqan Abbasi further maintained.