Ghotki train accident: CM Murad inquires about health of Kainat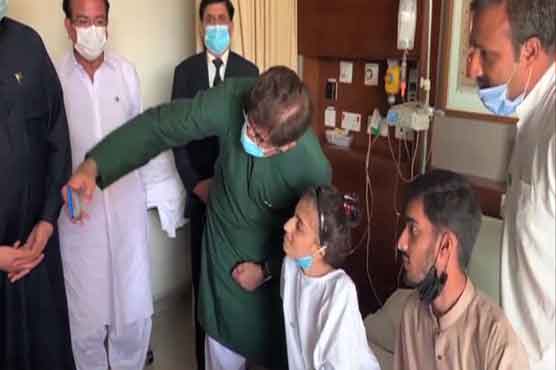 CM presented bouquet of flowers to her, expressed his best wishes and took a selfie with her
KARACHI (Dunya News) – Sindh Chief Minister (CM) Murad Ali Shah reached the hospital on Saturday to inquire about the health of Kainat who was injured in the Ghotki train accident.
According to the Sindh chief minister's spokesperson, 13-year-old Kainat was shifted to private hospital on the direction of Sindh chief minister on January 24. The spokesperson also said that Kainat's relatives, parents and brother were killed in the accident, while Kainat had fractures in both legs and one arm.
The Sindh chief minister, seeing the condition of the girl, had rushed him to the private hospital, the spokesman said. On the directive of Sindh Chief Minister, the expenses of treatment of Kainat were borne by the Sindh government, he added.
CM Murad has appointed a doctor from the Health Department to take care of her. Today, Kainat has recovered after various operations.
Meanwhile, the chief minister presented a bouquet of flowers to her and expressed his best wishes and took a selfi with her. He assured Kainat that he will not leave her alone and the Sindh government will take full care of her.
On the occasion, Kainat thanked the Sindh chief minister and offered prayers. The Sindh chief minister also assured to give a job to Kainat's brother. "Until the Kianat is completely healed, keep it in the hospital," he also instructed the doctors.