Published On 01 August,2021 06:43 pm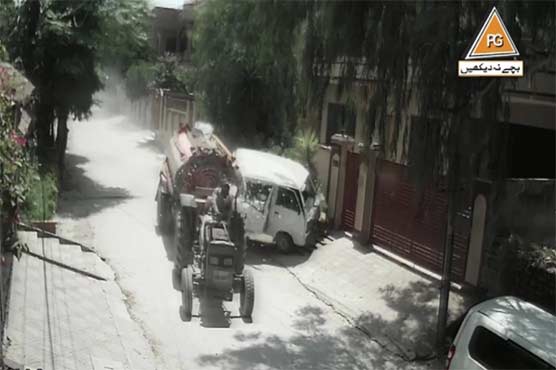 speeding tractor with water tanker went out-of-control, collided with vehicles parked in street
RAWALPINDI (Dunya News) – Four people injured and many vehicles parked in the street damaged when out-of-control tractor crashed into a transformer in Rawalpindi, however, Dunya News obtained the CCTV footage of the incident.
According to the details garnered, the incident was happened at Rawalpindi Airport Housing Society. A speeding tractor with water tanker went out-of-control and collided with vehicles parked in the street.
Meanwhile, four people were injured in the accident. It was reported that the tractor's brakes failed after which it first hit a parked car and then the transformer.
After the incident, the rescue personnel reached to the scene. The injured people have been shifted to the hospital for medical treatment. The police have initiated the investigation.
In the CCTV footage obtained by Dunya News, it can be easily seen that the tractor collided with the vehicles after being out-of-control.