Justice Qazi Faez Isa shifted to hospital as health deteriorates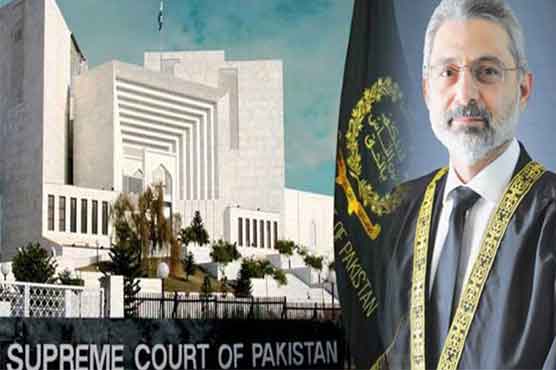 Justice Qazi Faez Isa shifted to hospital as health deteriorates
ISLAMABAD (Dunya News) – Supreme Court s (SC) Justice Qazi Faez Isa has been shifted to private hospital in Islamabad as his health deteriorates on Saturday.
According to the reports, the medical report of Justice Qazi Faez Isa was not satisfactory. On the advice of doctors, Justice Isa was shifted to private hospital.
Earlier, Justice Qazi Faez Isa and his wife Sarina Isa had quarantined themselves at their residence after testing positive for the novel disease.
According to the statement issued by the Deputy Registrar on Saturday, Justice Qazi Faez Isa and Mrs Sarina Isa have tested positive for SARS-Cov-2; their reports had been issued by the National Institute of Health.
They had quarantined at home and were under treatment, it added.
On the other hand, Pakistan had reported 65 deaths in the last 24 hours by novel coronavirus as the number of positive cases has surged to 1,029,811. The nationwide tally of fatalities had jumped to 23,360.
According to the latest figures by the National Command and Operation Center (NCOC) 4,950 persons tested positive for COVID-19 in the past 24 hours.
Punjab remains the worst-hit province in terms of deaths followed by Sindh and Khyber Pakhtunkhwa.
Till now 11,041 individuals have lost their lives to the epidemic in Punjab 5,971 in Sindh, 4,456 in KP, 801 in Islamabad, 622 in Azad Kashmir, 328 in Balochistan, and 141 in GB.
Furthermore 380,093 coronavirus cases have been confirmed in Sindh, 356,211 in Punjab, 143,673 in Khyber Pakhtunkhwa, 87,304 in Islamabad, 30,289 in Balochistan, 24,145 in Azad Kashmir and 8,096 in Gilgit-Baltistan.