Published On 31 July,2021 07:22 pm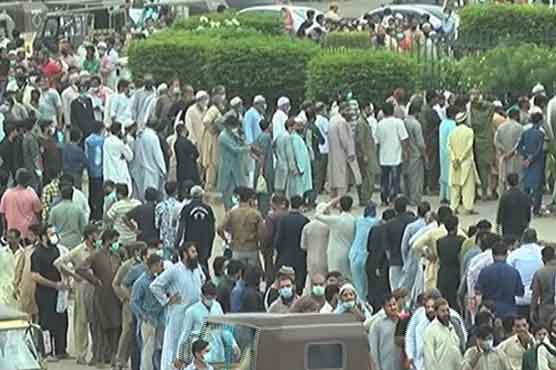 Guard injured glass door broken in scuffle outside Expo Centre in Karachi
KARACHI (Dunya News) – A security guard injured and a glass door of vaccination centre was broken in a scuffle outside the Expo Center in Karachi on Saturday.
According to the details garnered, a huge number of people rushed to get them vaccinated against COVID-19 after the provincial government announced to block SIM cards of unvaccinated citizens.
Meanwhile, long queues were witnessed outside Karachi Expo Centre. People were waiting in long lines outside Karachi's vaccination centre for a fifth day to be vaccinated against COVID-19.
A scuffle broke out and the vaccination process was stopped at centre following chaos. People protested and a glass door of vaccination centre hall number 4 was broken. A security guard was also injured as a result of a scuffle outside the vaccination centre.
Earlier in the day, Sindh government had lifted the ban imposed on pillion riding due to surge in coronavirus cases in a bid to ease lockdown restrictions notified yesterday.
The Sindh government had notified changes in the restrictions imposed due to rising coronavirus cases in the province.
Keeping in view the spike of fourth wave of coronavirus in the province, particularly deteriorating situation in Karachi, Sindh government has imposed a partial lockdown for nine days (July 31 to August 8).
Only export-oriented, food and health -related industries, pharmacies, bakeries and other essential services would operate, while all the markets, government offices, intra-city transport service would remain closed all over the province with special focus on Karachi.
Earlier a day, the NCOC head announced that 31st August will be the last date for workers of the hotels and restaurants, employees of the train service, public transport, government offices and those working at shops and markets to get vaccinated. "After this deadline, the un-vaccinated people will not be allowed to work," he announced.