PML-N announces countrywide protest after alleging rigging in AJK polls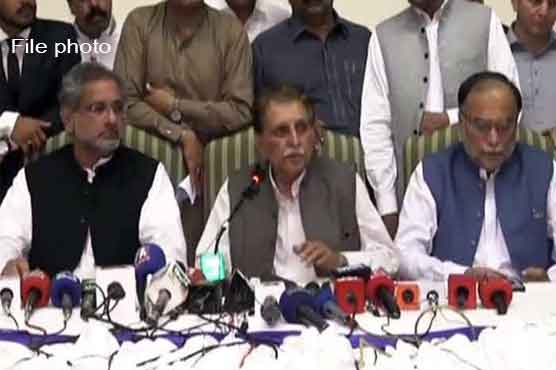 PML-N announces countrywide protest after alleging rigging in AJK polls
ISLAMABAD (Dunya News) - Pakistan Muslim League-Nawaz (PML-N) has announced to launch a full-scale protest movement in Pakistan and abroad after rejecting the results of Azad Kashmir elections.
According to details, PML-N leadership held a meeting on Azad Kashmir election results, a statement was issued at the end of the meeting.
According to the statement, Prime Minister of Pakistan Imran Khan personally interfered in the elections in Azad Kashmir. PML-N Rejects election results due to open interference by the federal government and other agencies, said in the statement.
It further states that these results weakened the Kashmir issue nationally and internationally and damaged Pakistan s position.
A strong movement will be launched against open rigging. The movement will be spread in phases to the constituencies of Pakistan and Kasmiris living abroad.
A resolution was also passed in the meeting, according to it the struggle against rigging will continue at national and international level with the cooperation of the people.
In the statement the poor performance and administrative weakness of Election Commission of Azad Kashmir were also condemned. It further states that a fact-finding committee will be formed to bring the evidence of fraud before the media.
Former Prime Minister and PML-N leader Shahid Khaqan Abbasi paid tribute to the people of Azad Kashmir saying that they fought against the worst rigging.
He alleged that PML-N mandate was stolen. "We will work out a plan of action together with the leadership of Azad Kashmir," he added.