Published On 27 July,2021 06:16 pm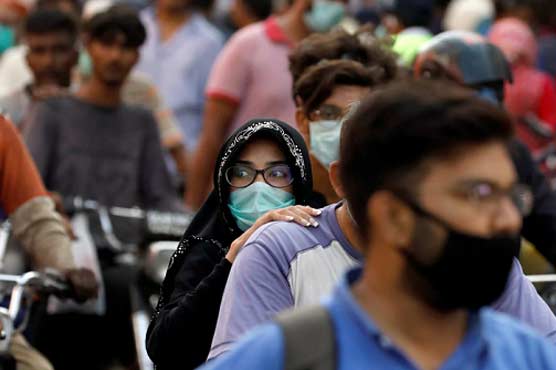 Karachi Coronavirus positivity ratio exceeds 26pc
KARACHI (Dunya News) - Sindh Chief Minister Murad Ali Shah while chairing a task force meeting instructed officers to strictly enforce SOPs amid sharp rise in coronavirus cases in the province.
According to the health department, the positive rate of coronavirus cases has exceeded 26% in Karachi.
The chief minister said that there should be no politics on Covid-19. He said no one should leave the house unnecessarily and directed commissioner and IG Sindh to impose complete ban after 6pm in Karachi.
Addressing the meeting, the Sindh Chief Minister said that he has come to know that tuition centers are still open in the city ordering to close them.
Corona s situation in the city will be reviewed again on Friday. If the situation does not improve, we will take further action, he added.
The Chief Minister also set up a committee of provincial ministers comprising Nasir Shah, Murtaza Wahab and Owais Shah to take the stakeholders and political parties into confidence.
It was informed in the meeting that the coronavirus positive rate in the province has reached 12.7% while in Karachi it has reached 26.32%. In July, 362 patients died from corona. There are 686 ICU beds with vents in Sindh hospitals. The Chief Minister directed to set up Corona Wards in various hospitals.
Sindh Agriculture Minister Ismail Rahu directed the chairmen of the markets committee and officers of the agriculture department to implement the SOPs.
Meanwhile, Minister for Industry and Commerce Jam Ikramullah Dharijo said that due to further increase in Corona cases, they may be forced to go for lockdown.