Election campaign for 53-seat AJK Legislative Assembly ends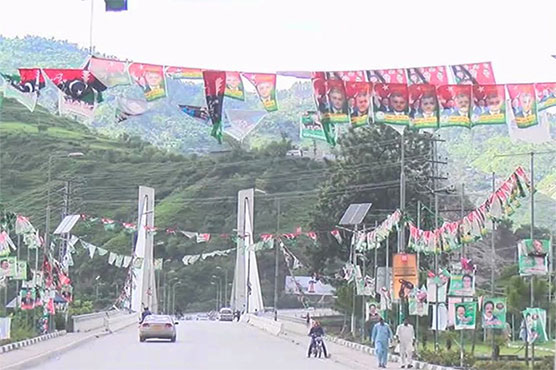 Election for Kashmir Legislative Assembly will be held on Sunday (July 25).
ISLAMABAD (Dunya News) - Election campaign for 53-seat Azad Jammu and Kashmir Legislative Assembly by various political parties and independent candidates ended at midnight Friday. Voting will be held on Sunday (July 25), Dunya News reported.
Over 3.02 million voters are going to elect the 53-member regional assembly for a five-year term in the elections scheduled on Sunday. Out of 53, there will be direct elections on 45 seats.
Three political parties Pakistan Tehreek-e-Insaf (PTI) of Prime Minister Imran Khan, Pakistan Muslim League-Nawaz (PML-N) of former Prime Minister Nawaz Sharif, and Pakistan People's Party (PPP) look racing neck-and-neck as the poll campaign ended.
Over 700 candidates from various political and religious parties are contesting for the 45 general seats. Out of the rest eight reserved seats, five are for women and three seats, one each for religious scholars, technocrats, and overseas Kashmiris. The members for these seats are nominated after the elections.
Out of 45 general seats, 12 seats are reserved for Kashmiri refugees who had migrated from the Indian Illegally Occupied Jammu and Kashmir (IIOJK) in 1947 and 1965 and are settled in various parts of Pakistan. Therefore, in the 10 districts of AJK, elections will take place on 33 seats only.
According to sources, PTI has fielded 45 candidates; PML-N and PPP are contesting polls on 44 seats each while Jammu and Kashmir Muslim Conference has fielded 42 candidates.