Nawaz sharif fled abroad by acting: PM Imran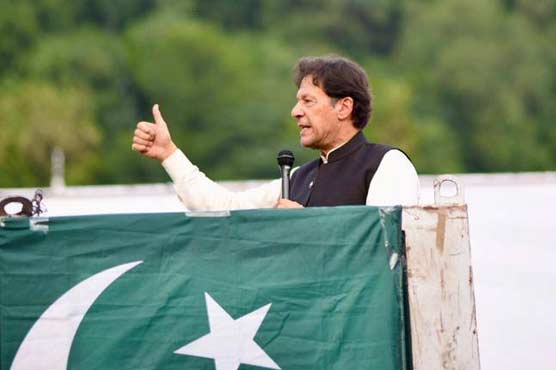 Nawaz sharif fled abroad by acting: PM Imran
BHIMBER (Dunya News) - Prime Minister Imran Khan while criticizing former ruler Mian Nawaz Sharif said that he fled the country by acting.
Addressing an election rally in Bhimber area of Azad Kashmir, Imran Khan said that Nawaz Sharif acted in such a way that the women of our cabinet started crying but as soon as Nawaz Sharif felt the wind of London, he recovered. Today not only Nawaz Sharif but also his children have fled the country.
He went on to state that the PML-N "crony" Ishaq Dar is sitting abroad, and has been since even before PTI came into power, his sons are abroad, Nawaz Sharif s sons have also fled abroad, so have Shehbaz Sharif s son in law and son. "Who are you afraid of? The courts are independent."
"Judiciary in the country is fully independent as Imran Khan did not attack courts or contact judges for seeking favourable judgements. I ask them a question– why are they sitting outside the country if they are honest and truthful, why they fear facing courts?" the prime minister said while addressing a mammoth public gathering held in connection with Azad Jammu and Kashmir upcoming general elections on 25th July.
He said due to independent judiciary and accountability process, even PTI's ministers were not spared. The courts and National Accountability Bureau (NAB) were free and not under any control, he added.
"If these leaders are honest, then why they fear from the justice system," the prime minister said.
Imran Khan said the nation is strived to make Pakistan a great country as the world always respects a self-reliant nation. He said past rulers mercilessly plundered country s wealth and took refuge abroad.
Imran Khan said the people should think before casting their votes in the Azad Kashmir elections that whether they are voting for an honest or corrupt leader. He said poverty cannot be eliminated from a society without curbing corruption.
Seeing a large number of people without observing Standard Operating Procedures against Covid-19 pandemic, Imran Khan appealed the people to continue wearing mask and observing SOPs to prevent spread of the virus.
He said the pandemic has yet not been over and we will have to continue observing SOPs to protect ourselves and others form Coronavirus.