Fazlur Rehman calls on Shahbaz Sharif to express solidarity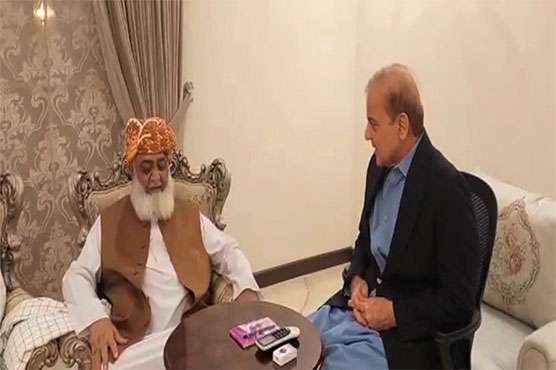 Fazlur Rehman said government had adopted an undemocratic attitude towards the opposition.
ISLAMABAD (Dunya News) - Jamiat Ulema-e-Islam-Fazl (JUI-F) chief Maulana Fazlur Rehman called on Pakistan Muslim League-Nawaz (PML-N) President and opposition leader in the National Assembly Shahbaz Sharif at his residence in Islamabad and expressed solidarity with him following a scuffle between the treasury and opposition members in the National Assembly on Tuesday, Dunya News reported.
Talking to Shahbaz Sharif, the JUI-F chief said that I came here to express my solidarity with you and added that the incumbent government had adopted an inappropriate and undemocratic attitude towards the opposition.
Maulana Fazlur Rehman said that for the first time in history of the country, leader of the opposition in NA and head of a political party was treated in such a manner. The undemocratic attitude of the undemocratic government is despicable and highly reprehensible.
Shahbaz Sharif thanked Maulana Fazlur Rehman for coming and expressing solidarity.