Published On 10 June,2021 07:15 pm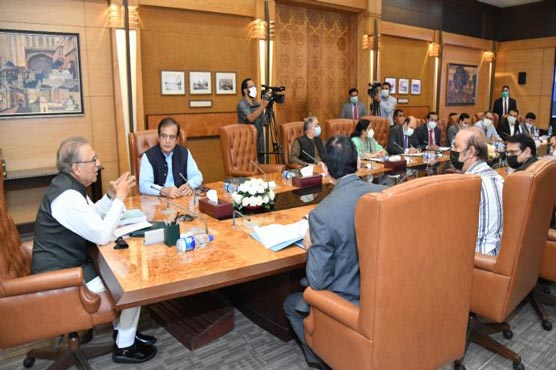 President for enabling expats to participate in next general election
ISLAMABAD (Dunya News) - President Dr Arif Alvi on Thursday underscored the need for early initiating the registration of Overseas Pakistanis enabling them to participate in the polling process through I-voting in the forthcoming General Election 2023.
He said that Pakistani community, living abroad, was playing instrumental role in economic development of the country by sending record remittances but they had not yet been facilitated to cast their vote in line with the orders of the Supreme Court of Pakistan (SCP).
He added that the process of electoral reforms was the basic mandate and fundamental responsibility of the Election Commission of Pakistan (ECP) and the federal government should only provide guidance and technical support to enhance their capacity as and when requested.
The President made these remarks while chairing a meeting of sub-committee on Emerging Technologies in I-voting, here at the Aiwan-e-Sadr.
The meeting was attended by Minister for Information Technology and Telecommunication (IT&T) Syed Amin-ul-Haq, Minister for Science and Technology (MoST), Senator Shibli Faraz, Advisor to PM on Parliamentary Affairs, Zaheer-ud-din Babar Awan, Secretary M/o IT&T, Dr Muhammad Sohail Rajput, Secretary MoST, Nadeem Irshad Kiyani, Acting Chairman National Database and Registration Authority (NADRA), Brig (R) Khalid Latif, DG (IT) ECP, Khizer Aziz, and other government officials.
Addressing the meeting, the President urged that, once the format was approved by the ECP, the concerned organizations, including the MoST, IT&T, NADRA and Pakistani Missions abroad, should make arrangements for about 9 million Overseas Pakistanis to register to exercise their right to vote through I-voting.
He said that it was imperative to ensure the participation of Overseas Pakistanis in the electoral process through I-voting so as to avoid contempt of court as the SCP, in the past, had given clear directions in that regard.
The President asked the MoST to make ready prototype Electronic Voting Machine (EVM) for presentation to ECP as a proof of concept and the final EVM could be made according to improved specifications by the ECP.
The MoST informed that the prototype EVM would be presented to ECP on 14 July.
In order to sensitize and educate the Overseas Pakistanis to register their votes, Advisor to PM on Parliamentary Affairs, Zaheer-ud-din Babar Awan, suggested that ECP should launch a publicity campaign and assured it of his Ministry's support in that regard.
Acting Chairman NADRA apprised the meeting that his organization was fully prepared to assist the ECP in undertaking the voter registration process.