Published On 03 June,2021 10:03 am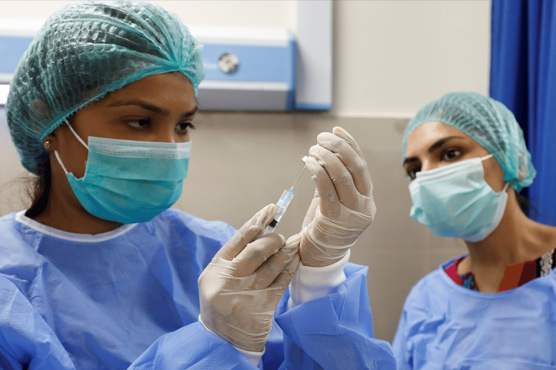 Vaccination for citizens aged 18 or above begins today
ISLAMABAD (Dunya News) - Vaccination of people above 18 years of age will begin from today. The National Command and Operation Center (NCOC) has set a target of vaccinating 70 million people by the end of year 2021.
Federal Minister for Planning Asad Umar chaired two special sessions of the NCOC Yesterday. Representatives of the media, chambers of commerce and the Pakistan Business Council (PBC) attended the NCOC sessions.
All the participants of the meeting assured their full support in the ongoing mass vaccination campaign of the NCOC.
Asad Umar said that the rate of economic growth is expected to be 5% this year and 6% by next year due to the right decisions taken by the incumbent government.
"The government wants to set-up corona vaccination centres in chambers and associations in collaboration with the private sector so that the business community, their employees and family members could be vaccinated as soon as possible," said Asad Umar adding that it will be helpful in halting coronavirus spread and the resumption of business activities will be possible.
The federal minister further said that the government wants to increase the number of vaccination centers in the country from the current 1,700 to more than 4,000 so that more people can be vaccinated.
"In collaboration with the Chamber, the first private sector vaccination center will be set up at Centaurs Islamabad with separate counters for men and women," added the federal minister for planning.
Asad Umar further said that the members of the business community, employees and customers will be vaccinated at the Centaurs Islamabad vaccination center.
It is pertinent to mention here that the Government of the Punjab has made it compulsory for all the government employees and their family members to get vaccinated against the coronavirus. The employees have been given the deadline of June 30 to get vaccinated. The Punjab government has issued a letter to all provincial departments and agencies regarding vaccination.