Imran Khan's name should be included in ECL over Ring Road scandal: Rana Sanaullah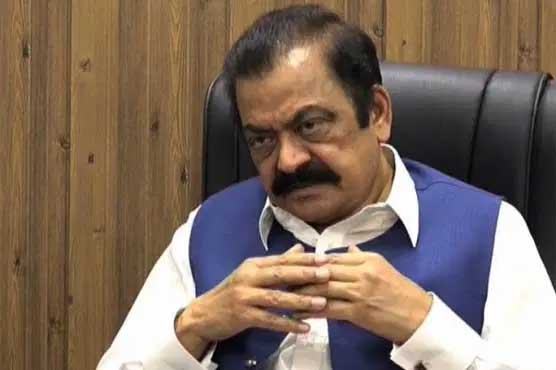 Imran Khan's name should be included in ECL over Ring Road scandal: Rana Sanaullah
LAHORE (Dunya News) - Pakistan Muslim League-Nawaz (PML-N) senior leader Rana Sanaullah has said that Prime Minister Imran Khan s name should be included in the Exit Control List (ECL), over Ring Road scandal.
In a statement on Twitter, Rana Sanaullah said that Imran Niazi is the master mind behind Ring Road theft, he should be arrested.
He further said that on the day of Eid, the offices of Interior Ministry and FIA were opened, illegal summary was circulated in violation of court order and approval was sought to put Shehbaz Sharif s name on ECL.
Rana Sanaullah said that the entire government of flour, sugar and thieves of Ring Road has been "shaken" by the fear of Shehbaz Sharif.
"At the behest of his boss, even on the day of Eid, peon was busy in putting Shehbaz's name on the ECL", he added.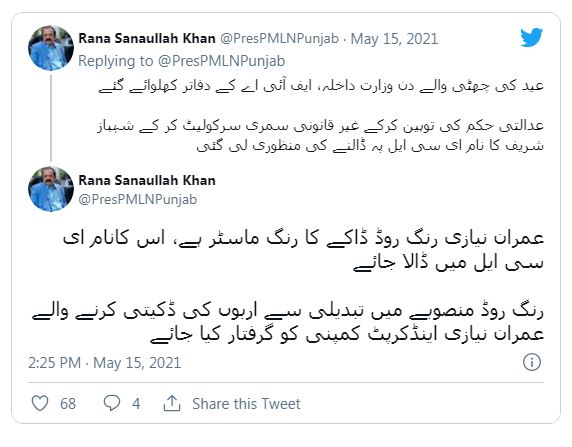 Earlier Pakistan Muslim League Nawaz (PML-N) spokesperson Marriyum Aurangzeb had demanded the arrest of the Prime Minister and Chief Minister Punjab following the investigation report of the Rawalpindi Ring Road scandal.
The PML-N spokesperson had said in her statement that in light of the report's findings, Imran Khan, Usman Buzdar and all responsible officers should be arrested as they will never allow an independent inquiry into the matter.
She had said that Imran Khan and Usman Buzdar have been found guilty in the Ring Road scandal, which is daylight robbery of more than Rs 25 billion. Neither of them will get an NRO, she added.
Marriyum had said that on the one hand, the PM makes cases against Shehbaz Sharif and adds his name to the ECL while on the other, he modifies projects made by Shehbaz to benefit the 'rent seekers'.
She had said that Shehbaz Sharif made projects worth billions and Imran Khan failed to prove a single penny's worth of corruption. Instead, he attempted a robbery by re-aligning the Rawalpindi Ring Road project envisioned by Shehbaz Sharif.