Published On 13 May,2021 08:56 am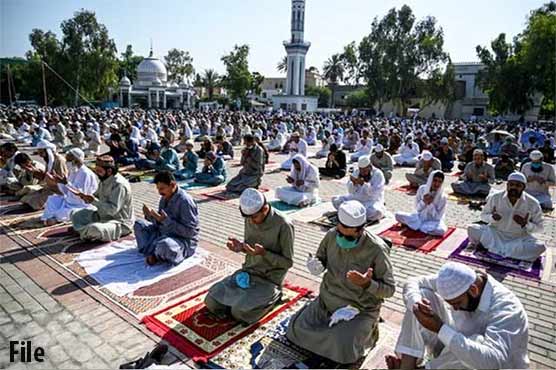 Nation celebrates Eid-ul-Fitr with strict implementation on SOPs
ISLAMABAD (Dunya News) – The nation is celebrating Eid-ul-Fitr today (Thursday) with strict implementation on standard operating procedures (SOPs) to avoid further spread of coronavirus pandemic.

Eid prayers were held at open places, in mosques and Eidgahs in all cities and towns with strict adherence to SOPs of social distancing and other precautionary measures to avoid the spread of the pandemic.
On the occasion, special prayers were offered for the well-being of the country while in sermons, the Ulema highlighted the significance of Eid-ul-Fitr.
Prayers were also offered for the Muslims of Palestine and the Indian illegally occupied Jammu and Kashmir where people are being subjected to oppression and brutality.
President Alvi and Sindh Governor Imran Ismail offered Eid prayers in Karachi while Punjab Governor went to Badshahi Mosque. Pakistan Peoples Party (PPP) chairman Bilawal Bhutto Zardari and National Assembly Speaker Asad Umar offered Eid prayers in Naudero and Faisal Mosque respectively.

Eid-ul-Fitr or Eid-al-Fitr marks the first day of Shawwal month. Every year, Eid-ul-Fitr occurs approximately 10-11 days earlier depending on the occurrence of the crescent moon because lunar months are shorter than the solar months, hence it varies from country to country by about a day.
---
PM, president greet nation on Eid-ul-Fitr
---
Prime Minister (PM) Imran Khan has greeted the nation on Eid-ul-Fitr and urged the people to take precautionary measures to prevent further spread of coronavirus.
In a seprate message, President Dr Arif Alvi has advised the countrymen to strictly adhere to the anti-COVID Standard Operating Procedures (SOPs), particularly not to shake hands and embrace each other during Eid days to avert massive outbreak of the pandemic.
The president said the anti-COVID precautions must not be ignored at any cost and ensure the implementation of the SOPs on the festive occasion, both individually as well as collectively.
---
Saudi Arabia, UAE celebrate Eid-ul-Fitr amid coronavirus pandemic
---
Muslims in Saudi Arabia and United Arab Emirates (UAE) are also celebrating Eid-ul-Fitr with religious fervor amid third wave of coronavirus pandemic.
According to details, Iran, Afghanistan, Kuwait and Indonesia are also greeting each other on the occasion of Eid.
On the other hand, Shawwal moon was not sighted in India and Bangladesh due to which, the Eid will be celebrated in these countries on Friday (May 14).
---
NCOC issues guidelines for Eid-ul-Fitr prayers
---
The National Command and Operation Centre (NCOC) Tuesday had approved strict guidelines and safety protocols for holding Eid-ul-Fitr prayers across the country.
According to the guidelines, Eid prayers should be organized at open spaces with Covid protocols.
In case, if there was compulsion to offer Eid prayer in Masjid then windows and doors should be kept opened for good ventilation to reduce risk of infection and disease transmission.