Shahid Khaqan Abbasi forgoes parliamentary etiquette in verbal spat with NA Speaker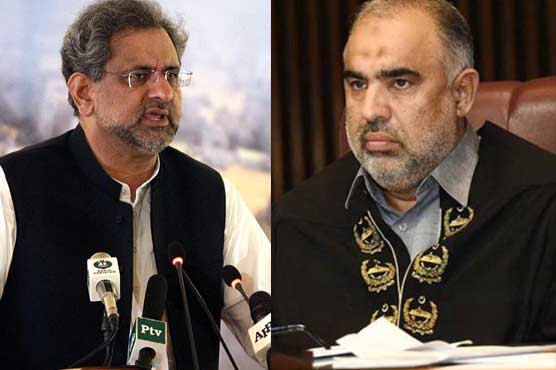 Shahid Khaqan Abbasi forgoes parliamentary etiquette in verbal spat with NA Speaker
ISLAMABAD (Dunya News) - In Tuesday's special session of the National Assembly, PML-N leader Shahid Khaqan Abbasi threw parliamentary etiquette out of the window and made threats to Speaker National Assembly Asad Qaiser.
During the session, harsh words were exchanged between the Speaker National Assembly Asad Qaiser and Shahid Khaqan Abbasi. According to sources, when Shahid Khaqan Abbasi used unparliamentary language to target Asad Qaiser, the Speaker also lost his cool and directed the former PM to stay in his limits.
Addressing the Speaker, Shahid Khaqan Abbasi said that he was making the issue controversial in the House. "Yesterday, you adjourned the session and called a meeting today. If you had to bring a resolution, you should have spoken to the opposition first", said Abbasi.
"Unfortunately, this resolution is not enough," he said. "You have tabled a resolution, we should be given time to go through it. We want a unanimous resolution to be passed".
Khaqan Abbasi said that instead of a special committee, a committee of the whole should be formed.
Earlier, a resolution on expulsion of French Ambassador to Pakistan over blasphemous caricatures issue was presented to the National Assembly.
The text of the resolution stated that in order to deport the French ambassador, an opinion has been sought from the parliament to discuss this important issue in the House. This is a very sensitive issue and there should be a special committee.
The resolution stated that international affairs should be decided by the state and no group can put pressure. It said that all European countries in general and France in particular should be made aware of the seriousness of this issue.
The resolution said that the issue should be raised collectively on international forums while discussing the issue with all Muslim countries. The text of the resolution proposed to provide space in various parts of the country for protests on religious issues.
The National Assembly session has been adjourned till 11am on April 23.