Published On 03 April,2021 11:55 pm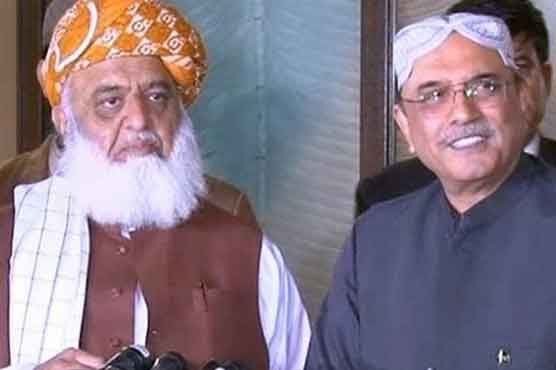 Nawaz, Zardari phone Maulana Fazlur Rehman to inquire about health
ISLAMABAD (Dunya News) - Pakistan People's Party (PPP) co-chairman and former president Asif Ali Zardari and former prime minister Mian Nawaz Sharif on Saturday telephoned the Pakistan Democratic Movement (PDM) head Maulana Fazlur Rehman to inquire about his health.
According to details, former president Asif Ali Zardari inquired about the well being of JUI-F leader Fazlur Rehman over the telephone and said that he was praying for his speedy recovery.
Former Prime Minister Mian Nawaz Sharif also contacted the JUI-F chief to wish him health and a quick recovery. According to sources, Maulana Fazlur Rehman thanked Nawaz Sharif for contacting him to ask about his health.
Sources say that Nawaz Sharif advised Maulana Fazlur Rehman to rest till he has fully recovered and said that he should not come out of his room till that time. He advised Fazlur Rehman to pay attention to his health and leave politics for later. "After you have fully recovered, PDM will be made fully active", he said.