Published On 29 March,2021 06:20 pm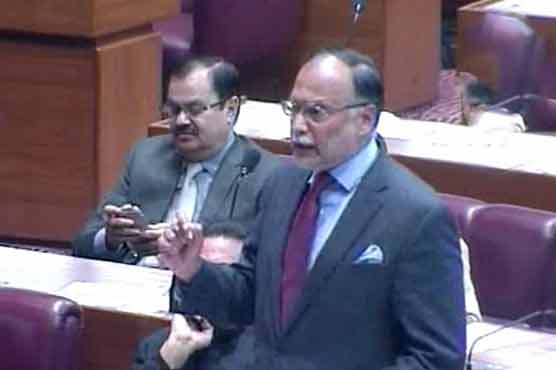 Will not let SBP become a subsidiary of IMF: Ahsan Iqbal
ISLAMABAD (Dunya News) – Pakistan Muslim League-Nawaz (PML-N) leader Ahsan Iqbal has said that the incumbent government is selling off Pakistan's sovereignty. He vowed that the opposition will not let State Bank of Pakistan become a subsidiary of the IMF.
Speaking at Monday's National Assembly session, he said that we have all taken an oath to uphold the sovereignty of the Constitution. If the country is run according to the constitution, all will be fine, but if the constitution is disregarded, the country will not function properly.
Ahsan Iqbal said that Article 73 of the constitution says that imposing new taxes or changing present ones is done through a money bill, which cannot be enacted through a presidential ordinance. It is unconstitutional to impose 700 billion taxes through an ordinance.
He added that if any new taxation is to be introduced, it should be presented before the elected representatives in the National Assembly and the taxes imposed through ordinance should be withdrawn.
Earlier, addressing the National Assembly, PPP leader Raja Pervez Ashraf said that there was no particular agenda for Monday's session of the National Assembly. The session had only been called to complete the required days of the parliamentary year, he added.
The former PM said that neither was the quorum of the government complete nor the meeting of the Business Advisory Committee was convened.