Published On 27 March,2021 01:18 pm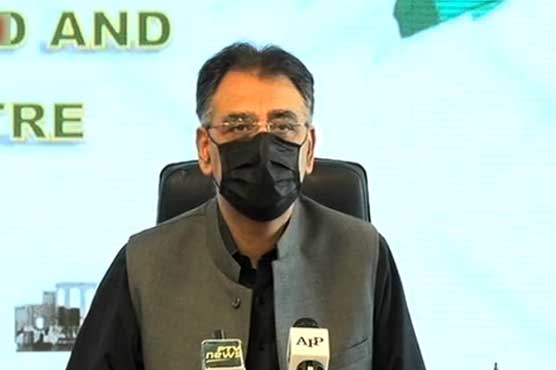 UK variant is more dangerous and contagious: Asad Umar
ISLAMABAD (Dunya News) – Federal Minister for Planning and Development Asad Umar on Saturday feared that coronavirus situation might get out of control if preventive measures were not strictly adhered to.
Talking to media persons after a meeting of National Command and Operation Center (NCOC), Asad Umar reiterated that hospital are reaching their maximum capacity and if precautionary measure are not followed, government will have to take tough decisions.
The NCOC head further said that public is not comprehending the seriousness of third wave of the coronavirus, which is being caused by the UK variant and warned that the new variant is more dangerous and contagious.
Planning minister further said that new wave of the virus is resulting in sharp increase in cases in the entire region including Pakistan. He further revealed that in past five days number of critical patients have increased by over 1000.
It merits mention that daily coronavirus cases in Pakistan have reached levels of July 2020 as over 4000 new cases have been reported for two days in a row.
Pakistan has reported 67 deaths in the last 24 hours by novel coronavirus as the number of positive cases has surged to 649,824. The nationwide tally of fatalities has jumped to 14,158 on Saturday.
Punjab remains the worst-hit province in terms of deaths followed by Sindh and Khyber Pakhtunkhwa.
Till now 264,355 coronavirus cases have been confirmed in Sindh, 210,095 in Punjab 83,630 in Khyber Pakhtunkhwa, 55,056 in Islamabad, 19,453 in Balochistan, 12,245 in Azad Kashmir and 4,990 in Gilgit-Baltistan.
Furthermore 6,190 individuals have lost their lives to the epidemic in Punjab 4,487 in Sindh, 2,274 in KP, 557 in Islamabad, 342 in Azad Kashmir, 205 in Balochistan, and 103 in GB.