Published On 26 March,2021 04:58 pm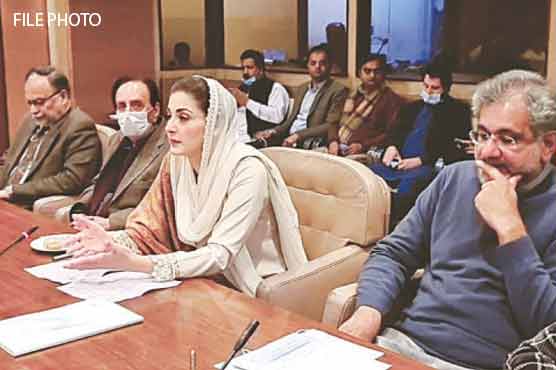 The PML-N leaders said that the PPP had stabbed in the back of the PDM
LAHORE (Dunya News) – Pakistan Muslim League-Nawaz (PML-N) on Friday decided to lodge a complaint with Maulana Fazlur Rehman, expressing serious concerns over the appointment of Yousuf Raza Gilani as Leader of the Opposition in the Senate.
According to sources, these concerns were expressed at a meeting of the PML-N chaired by Maryam Nawaz Sharif. The PML-N leaders said that the Pakistan Peoples Party (PPP) had stabbed in the back of the PDM gaining the support of Balochistan Awami Party (BAP).
Expressing strong reservations and complaining, the PML-N leaders said that it would be difficult to take the PPP along, adding that the PPP was now going to become the official opposition and with the support of the BAP, everything stands exposed.
They went on to say that everyone know as whom directions did the BAP voted for the PPP, adding that the PDM chairman Moulana Fazlur Rehman will have to take a strict stand that why did the PPP do this when the opposition alliance had decided that the leader of opposition in Senate would be from the PML-N.
---
Blow for PDM

---
Earlier addressing a press conference, PML-N senior leader Ahsan Iqbal said Yousaf Raza Gillani's application for Opposition Leader in the Senate is a blow for the Pakistan Democratic Movement (PDM).
Ahsan Iqbal flanked by Rana Sanaullah said Pakistan Peoples Party (PPP) should have told PML-N supremo Nawaz Sharif if the post of the opposition leader was indispensable for it.
While announcing to raise the matter in the PDM meeting, the PML-N leader stressed that the one who betrayed the PDM's cause will pay heavy price. PDM parties had announced support for Azam Nazeer Tarar for the opposition leader and 27 Senators had confirmed to vote for him, he said.
Ahsan Iqbal said the people of Pakistan want the end of this game of musical chairs which has been ongoing for 72 years. PDM is the only hope of 220 million citizens, he added.
It is pertinent here to mention that PPP's Yousaf Raza Gillani has been appointed as Leader of the Opposition in Upper House of the Parliament today with support of 30 senators which included 21 from PPP, two from Awami National Party (ANP), one from Jamaat-e-Islami (JI), two members of former Federally Administered Tribal Areas (FATA) and four senators from Dilawar Khan's independent group.
The notification issued by Senate Secretariat read, "In pursuance of Rule 16 (3) of the Rules of Procedure and Conduct of Business in the Senate 2012, the Chairman Senate has been pleased to declare Senator Syed Yousaf Raza Gillani as Leader of the Opposition in the Senate with effect from March 26, 2021."