Published On 21 March,2021 05:12 pm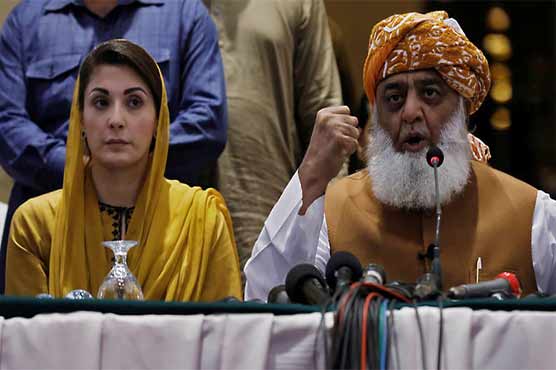 PDM workers will accompany Maryam Nawaz during NAB appearance: Fazlur Rehman
LAHORE (Dunya News) - Pakistan Democratic Movement (PDM) chief Maulana Fazlur Rehman has announced that our workers will accompany Maryam Nawaz during NAB appearance on March 26.
Maulana Fazlur Rehman made the announcement while talking to media persons after meeting Maryam Nawaz in Jati Umra. He said that there was no rift in the opposition alliance, contacts were maintained and they would move forward together.
He said that we will wait for the decision of the PPP regarding the resignations. He hoped that PPP would respect the wishes of the remaining nine parties of the PDM.
On the issue of growing differences in the PDM, the leader of the opposition alliance, Maulana Fazlur Rehman, reached Jati Umra where he was received by party leaders including PML-N vice president Maryam Nawaz and central leader Hamza Shahbaz. PML-N leader Nawaz Sharif also attended the meeting through video link.
The political meeting discussed the future of the PDM and the political situation in the country, including the long march after Eid.
According to sources, the meeting also considered a no-confidence motion against Prime Minister Imran Khan, while the PML-N suggested to the PDM chief that the long march be postponed till Eid-ul-Fitr.
After the meeting, Fazlur Rehman while talking to media, criticized the government and said that by increasing the price of electricity by Rs 6, government has put another mountain of inflation on the backs of the poor.
He said that making SBP independent was a very bad move. With the enactment of this law, the SBP will be accountable only to international institutions.
Talking about Pak-India relations, he said that the move of Indian Prime Minister Narendra Modi regarding occupied Kashmir was not accepted by the world. In the current situation, negotiations with India will mean getting it out of pressure.
Speaking about the National Accountability Bureau (NAB), he said that NAB was always a puppet. Millions of PDM workers will accompany Maryam Nawaz during her appearance on March 26, while PDM leaders will also be by her side.
Fazlur Rehman claimed that PDM is united, some issues will be controlled through mutual contacts adding that the decision of the PPP's CEC will be awaited. PPP will be asked to respect the opinion of 9 parties. We will move forward effectively, he added.