Published On 18 March,2021 08:53 pm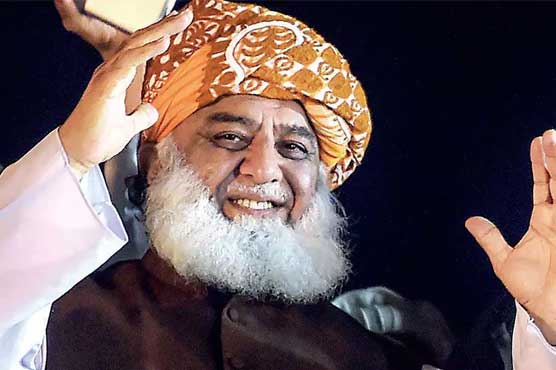 The PDM head said this in an interview with Dunya News program 'Nuqta-e-nazar"
LAHORE (Dunya News) - Pakistan Democratic Movement (PDM) head and Jamiat Ulema-e-Islam (JUI-F) leader Maulana Fazlur Rehman has said that he is in touch with Asif Zardari and Nawaz Sharif after Tuesday's PDM meeting.
"We are all friends. Allies should be addressed as allies, not foes", he said.
The PDM head was speaking to Dunya News program 'Nuqta-e-Nazar', in which he said that he had a detailed telephonic conversation with Asif Ali Zardari yesterday, and with Nawaz Sharif today. He said the PPP did not voice support for resignations and now the matter seems to have been pushed till after Ramadan.
"We are in touch with each other. Some solution will eventually come out", said Fazlur Rehman.
Replying to a question regarding PPP's Sherry Rehman being fielded as Leader of the Opposition in the Senate, he said that it was decided on the platform of PDM that the Senate chairman would be from PPP, Deputy Chairman Senate would be from JUI-F while the Leader of the Opposition would belong to PML-N. We will not change this decision, he added.
Fazlur Rehman further said that Abdul Ghafoor Haideri's loss in the election of Deputy Chairman Senate would soon be investigated. Moreover, PDM will approach the court against wrongly rejected votes of Senator Yousaf Raza Gillani as well as Mirza Muhammad Afridi's win as Deputy Chairman because he is a defaulter of Rs 2 billion.
Earlier, the PDM head addressed a ceremony in Islamabad where he said that the movements do not stop whether everyone sticks together or someone breaks away from the alliance.
The JUI-F chief said that the politics is not the name of cowardice but the name of courage, endurance and hope, adding that even one political party can bring change with the support of public.
"The journey towards the destination goes on," he said and added the JUI-F will not disappoint the nation. He said: "If you are in politics, jail and power will also come your way, adding coming into government is not a revolution for me."
Fazl said, "Our forefathers have not rendered sacrifices for staying behind but for moving forward." Lambasting on the politicians, he said why were those in politics who cannot go to jail.
The PDM chairman said that the economy was destroyed in two and a half years by imposing an illegitimate government on our country. "How long will you keep blaming the previous governments, now there is no power in these words, admit your incompetence and leave power."
"We are talking about democracy, the constitution and the supremacy of parliament and stand by the Constitution of Pakistan in order to fix this country," he added.