Published On 15 March,2021 07:29 pm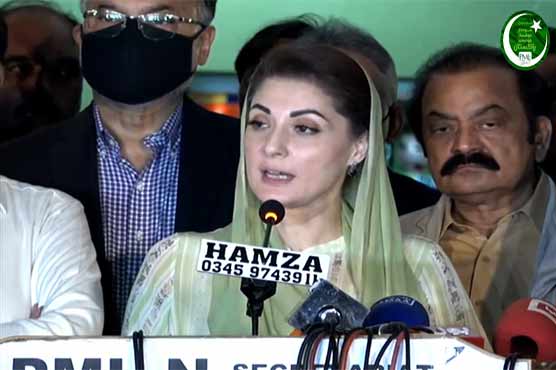 PDM huddle to decide issue of resignations: Maryam Nawaz
LAHORE (Dunya News) – Pakistan Muslim League-Nawaz (PML-N) Vice President Maryam Nawaz has said that the issue of resignation from the assemblies will be decided in the meeting of Pakistan Democratic Movement to be held on Tuesday.
She was addressing a press conference in Lahore and said that each party has its own views and will announce decision after consultation with all the parties. She hoped to convince those opposing resignations.
"The NAB has made a ridiculous petition against me," she said. I heard that NAB was an institution of accountability but when no allegation was proved then it started to examine statements of the politicians.
She said that when the court asked the NAB, why the idea of cancelation of bail came after a year and a half, the NAB said in its reply that they were holding rallies and meetings.
"I am surprised that when my mother was ill, I used to appear before the court on a daily basis, but when I asked the NAB for a week s leave to visit her, I was ridiculed," said Maryam.
Maryam Nawaz said that the voice of the opposition is being raised and heard. The people are listening to us, which is very encouraging for the opposition.
Answering a question, she said that stance of each party on resignations from assemblies would become clear after the PDM meeting.
The league leader while criticizing government said that instead of apologizing, they attacked the Election Commission. They appointed the Election Commission themselves and they should be ashamed.
She asked why they were taking revenge on the Election Commission. Despite the worst fraud, people rejected you. The worst rigging in Daska was probably not even done during the dictator s referendum.
Maryam Nawaz said that today the whole nation must have understood how to criticize and attack institutions.